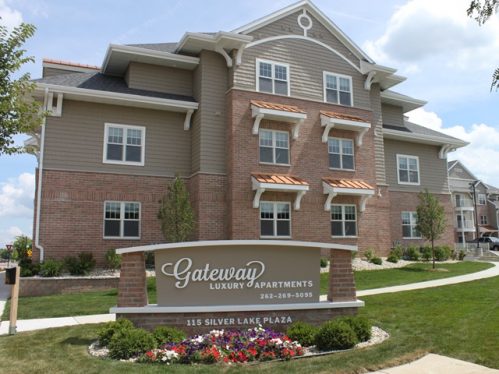 Case Study
The Gateway Apartments
Project Divisions: Flooring & Ceramic Tile
Location: Oconomowoc, Wis.
Completion Date: June, 2016
Project Description:
The Gateway Apartments is a three-story, 42-unit apartment complex at the entrance to the downtown area of Oconomowoc, Wis., a city just to the west of Milwaukee. A $4.5-million development, its location offers a convenient walk to restaurants and shopping, along with views of downtown.
The complex offers both one- and two-bedroom units, and includes modern amenities like vaulted ceilings, fireplaces, custom cabinets, granite countertops, stainless-steel appliances, in-unit washers and dryers, oversized closets, a fitness room and a dog wash for pet owners. Each floor offers a gathering area for residents, with the second floor equipped with a business room and lounge, while the top floor has a theatre room and kitchenette.
A 6-8 person crew from H.J. Martin and Son worked on and off at the site over a five-month period, including a final push in the weeks leading up to the complex's opening.
Carpet was installed in the bedrooms of each unit, along with some living areas. Luxury Vinyl Plank (LVP) was utilized extensively in The Gateway Apartments, including kitchen areas, for its rich look and ease of maintenance.
A unique, rubberized flooring product was installed in the exercise room of the complex.
A signature aspect of this project was the herringbone pattern found in some of the flooring products. The challenge of maintaining straightness with the pattern, particularly in the high-visibility foyer of the main entrance, was met by the expert installers of H.J. Martin and Son.
---
Navigate Featured Projects
Connect With A Specialist