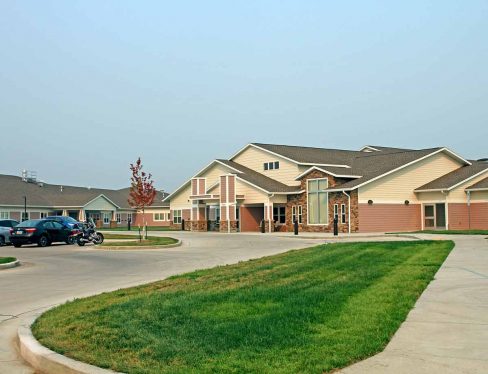 Case Study
Miller Pointe
Project Divisions: Flooring & Ceramic Tile
Location: Mandan, N.D.
Completion Date: February, 2017
Project Description:
Miller Pointe is a new, $28-million rehabilitation and skilled nursing facility in Mandan, N.D., operated by The Evangelical Lutheran Good Samaritan Society, the largest not-for-profit provider of senior care in the U.S.
With 120 rehabilitation and skilled care beds, the facility provides a comprehensive approach to senior care with services that include speech, occupational and physical therapies, plus wound and IV care.  Miller Pointe has three interconnected buildings and two "neighborhoods." It features dining halls, kitchenettes, and nursing stations, and each patient room has a personal bathroom.
The largest senior-living project of H.J. Martin and Son at the time of its completion, 15-20 flooring installers of the company were on site for the four-and-a-half month project. Carpet, vinyl and ceramic tile were installed, with one building being completed each month.
Specified Mohawk carpet tile and commercial sheet vinyl comprised much of the installation. Every unit had a full tile shower, including a five-foot wet wall and wainscoting for ease of entry.
Back-of-house areas such as medical rooms, laboratories, and kitchens required specialty installations not provided by many flooring installers. H.J. Martin and Son personnel expertly handled commercial-grade heat welding as part of the installation.
An additional challenge of the project was its land-locked location, mixed with wintry conditions on many days. A large number of materials had to be moved to the job site, using a single construction-only road.  The road often was treacherous due to the poor weather of a remote small town in the Upper Midwest.
H.J. Martin and Son was able to meet all of its deadlines for an on-time opening of the facility, including those for mandated health inspections.
---
Navigate Featured Projects
Connect With A Specialist