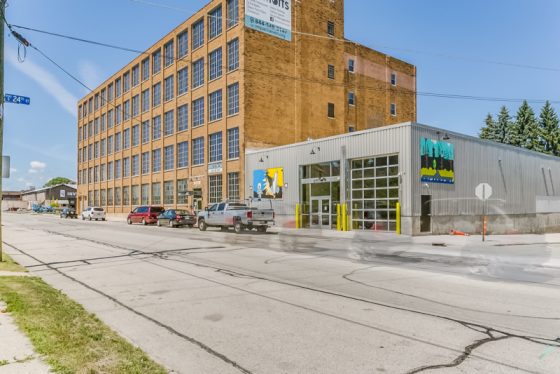 Case Study
Artist Lofts at Mirro Plant No. 3
Project Divisions: Flooring & Ceramic Tile
Location: Manitowoc, Wis.
Completion Date: June, 2016
Project Description:
Artist Lofts at Mirro Plant No. 3 is a 40-unit, urban-style apartment complex.  It is an adaptive reuse of a nearly 100-year old, brick warehouse formerly used by Mirro (a cookware manufacturer.)
Shuttered for more than a decade, a $9.4-million renovation project converted floors two through five into two- and three-bedroom, loft-style apartments which were targeted for low-income residents and military veterans.  The first floor is made up of community space, including an art gallery, exercise room, laundry facility and indoor parking.
The units feature the original brick, exposed wood ceilings and metal beams, industrial-chic exposed duct work and, where available, the original hardwood floors.
Complementing the existing hardwood, H.J. Martin and Son installed approximately 15,000 square feet of hardwood, a product typically not utilized within an apartment building.  The wood floor provided a high-end look and feel for residents.
Carpet was installed seamlessly alongside hardwood, while Luxury Vinyl Tile (LVT) was utilized in each unit's two bathrooms.
Logistical challenges were overcome throughout the project.  Without an operating elevator in place until nearly all work was completed, H.J. Martin personnel were required to stage and carry all products to upper floors as they were needed.
With a tight, three-month timeline for completion, the three to eight H.J. Martin and Son installers on site also were asked to work alongside other sub-contractors in order for the project to come in on schedule.
---
Navigate Featured Projects
Connect With A Specialist