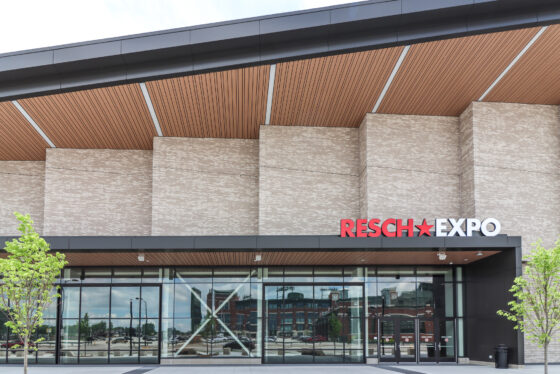 Case Study
Resch Expo
Project Divisions: Flooring & Ceramic Tile, Glass & Glazing
Location: Green Bay, WI
Completion Date: January, 2021
Project Description:
The Resch Expo is a 125,000-square-foot event and exhibition hall located in the heart of Green Bay. The building sits in the former location of the Brown County Veterans Memorial Arena and Shopko Hall, which were both demolished in 2019. As a central visitor's center in Green Bay, the facility is essential to the overall community.
Working with the general contractor, Miron Construction, H.J. Martin and Son installed the building's stunning glass features and specialty flooring.
With its flawless glass exterior and beautiful architecture, the Resch Expo is a visual highlight of the Lambeau Field Stadium District. Crews for the Glass & Glazing division were on site for the majority of 2020. The crews used innovative installation techniques due to the specialty design. The building design features a south-facing elevation where we installed a saw-tooth style curtain wall with a sloping roof edge. This challenged our crews to work within different angles and non-typical conditions.
Other special features of the glass install include incorporating crown doors in the Kawneer curtain wall system, installation of glass-paneled staircases, and hanging of a large exterior video board from the curtainwall. To accommodate such a large video board, H.J. Martin and Son planned the design to have adequate steel required to support it and allow access to the electrical systems through the curtain wall.
The Commercial Flooring division provided the installation of nearly 85,000 square feet of carpet tile, ceramic tile, and resilient flooring. An additional 15,000 linear feet of resilient wall base was installed during the project as well. A crew of six over a seven-month period performed the work.
Key features include the wall tile on the first floor. Across from the main entrance, large-format Laminam tile is featured on the wall. Each piece is 1 meter by 3 meters and requires two people to install each one. A lift was used to get to the highest points at 23 feet in the air. This is a special area, as it is a living memorial honoring local veterans called the Veterans Storytelling Wall. The concession stands were covered in white subway tile and a beautiful golden AlysEdwards tile is featured on the bar counter wall.
Patterned carpet tile from Milliken was installed throughout, including in meeting rooms and office space.
Additionally, there is Altro vinyl safety flooring in the concession stands, bar area, kitchens and pantries that is heavy-duty and slip-resistant. Other brands used include Daltile, Crossville, Armstrong, and Johnsonite.
The overall project was completed during classic Green Bay weather fluctuations, under a tight schedule and while adhering to all COVID-19 safety standards. The building opened to the public in January 2021.
---
Navigate Featured Projects
Connect With A Specialist