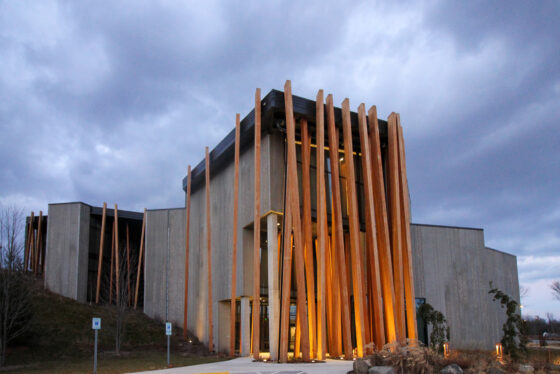 Case Study
Art Preserve of the John Michael Kohler Arts Center
Project Divisions: Glass & Glazing
Location: Sheboygan, WI
Completion Date: August, 2019
Project Description:
The Art Preserve at the John Michael Kohler Arts Center is a new 56,000-square-foot, three-story building, open June 2021. The $40 million Art Preserve museum will be an exhibition space and visible storage for more than 25,000 works of art by over 30 artists in the center's collection of artist-built environments. This is a unique art form where the artist transforms their living spaces and yards into multifaceted works of art. 
The building itself is a visually striking representation of nature, made with materials prevalent to the Earth. Made of concrete, the structure is embedded into a hillside, which will assist in maintaining interior temperatures. The main entrance and the building's large windows are surrounded by giant soaring timber shades that mimic the trees on the site's hillside and gives visitors the illusion of walking through the woods. The timber shields the art collection from direct sunlight, but still allows sight of the 38-acre preserve through the windows. 
H.J. Martin and Son worked with planners and architects from the Denver-based Tres Birds on the glass installation. 
On the exterior, the project called for a non-load-bearing glass curtain wall to be installed, and each triple-glazed panel weighed approximately 700 pounds. The glass was installed in a tight space, behind the timbers, not allowing the use of a lift. The crew used power cups and a hoist system to get the glass panels to the higher levels. 
On the inside of the building, H.J. Martin and Son installed heavy interior glass walls and a three-story glass railing, allowing for unobstructed views of the space and out into the preserve.
Eight glaziers were on sight for seven months due to the project's intricate design.
The Art Preserve will be a center for academics, including a library, study, and spaces to provide access to the collection for researchers, tour groups, and the general public. 
Due to the COVID-19 pandemic, the opening of the center was delayed, but the center was able to put the finishing touches on the building and get the displays fully set. The project is a culmination of 10 years of planning.
---
Navigate Featured Projects
Connect With A Specialist