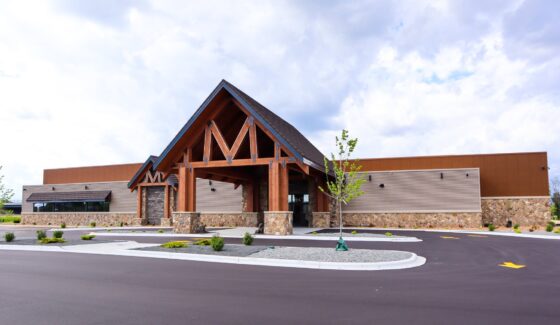 Case Study
Mineshaft Oshkosh
Project Divisions: Flooring & Ceramic Tile
Location: Oshkosh, Wis.
Completion Date: June, 2020
Project Description:
Originating in Hartford, Wisconsin, Mineshaft Oshkosh is now expanding its roots to Koeller St. in Oshkosh, Wisconsin. Designed to look like an old mine shaft, this restaurant seats over 500 people and serves over 10,000 guests weekly. They seek to give their customers large portions of quality homemade food at a reasonable price. Officially opening its doors in July 2020, the building includes a restaurant, bar, and game room. As a bar, restaurant, and game room destination, Mineshaft Oshkosh is one of the busiest locations in the state. 
The Commercial Flooring division with H.J. Martin and Son installed a total of 25,000 sq. ft. of flooring throughout the entire building. The team installed 17,000 sq. ft. of Caesar brand Revive Matte 8×40 in wood-look tile plank. This was installed in the entrance, dining room, party rooms, bathrooms, and the bar. The game room and offices had a total of 13,392 sq. ft. of J&J Kinetex Umbra carpeting with a mix of blue, black, and grey colors installed. In addition to the flooring, 8,000 sq. ft. of subway tile was installed on the bathroom walls. 
This project took four months to complete from March 2020 – June 2020. There were 4-6 flooring installers throughout the project.
---
Navigate Featured Projects
Connect With A Specialist