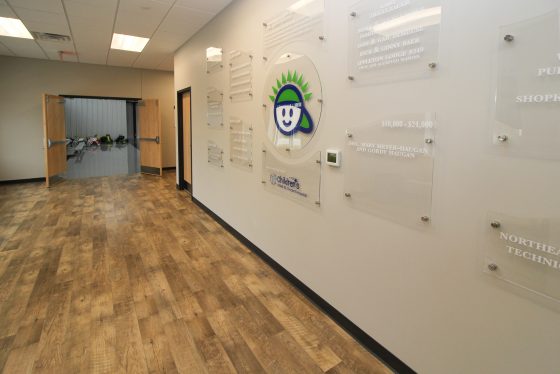 Case Study
Center for Childhood Safety
Project Divisions: Doors & Hardware, Flooring & Ceramic Tile, Polished Concrete, Walls & Ceilings
Location: Ashwaubenon, Wis.
Completion Date: August, 2019
Project Description:
The Center for Childhood Safety (CCS) opened its new location in July 2019. CCS works to create a culture of childhood safety in Northeast Wisconsin through education and resources for both children and adults. They provide a number of valuable services to parents in the area including car seat installation checks, programming about wearing helmets, safe sleep, traffic safety, and much more.
CCS moved from its former home on Military Avenue in Green Bay to the newly constructed 10,000 square foot facility on Ramada Way in Ashwaubenon. The building space includes classrooms, offices, restrooms, a large garage, and Safety Town, a small scale "town" used to teach children about fire, water, traffic, and pedestrian safety.
H.J. Martin and Son divisions on the project, overseen by general contractor Rodac Development & Construction Services, included Commercial Flooring, Doors & Hardware, Operable Partitions, and Wall & Ceilings.
The Commercial Flooring division installed more than 5,000 square feet of flooring including Adura luxury vinyl plank, Daltile ceramic tile, and J&J carpet tile. Two crew members were on site for approximately two weeks to install the flooring. Additionally, the garage area has polished concrete that was finished by H.J. Martin and Son. 
Bathroom partitions, three hollow metal exterior doors, 24 clear-coat maple doors, 22 door frames, and bathroom accessories were all installed by H.J. Martin and Son through the Doors & Hardware division. Two crew members completed the install in a two week period.
The Walls & Ceilings Division installed all interior framing, drywall, acoustical ceilings, operable partitions, finished carpentry, and cabinetry. With a crew between 8-12 people, more than 27,500 square feet of drywall was installed. One moveable wall, known as operable partitions, was also installed in the classroom to subdivide it into two rooms if necessary. 
Overall the timeline for the project required a fast turnaround of all installations. The drywall crew, specifically, had extensive 1-hour wall assemblies varying in height from 18' to 19', which helped keep the installation time short.
---
Navigate Featured Projects
Connect With A Specialist