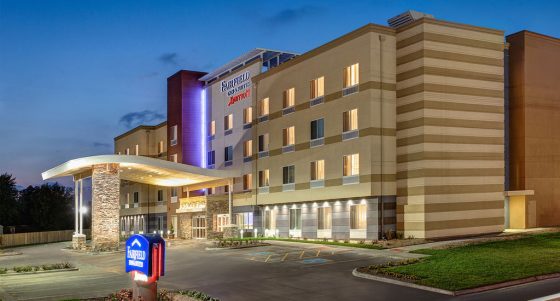 Case Study
Marriott Fairfield Inn and Suites
Project Divisions: Flooring & Ceramic Tile
Location: Decorah, Iowa
Completion Date: July, 2017
Project Description:
A four-story Fairfield Inn and Suites hotel overlooking the bluffs of Decorah, Iowa, a town of less than 10,000 residents in the northeast corner of the state, went up over a 15-month period.  With 84 guest rooms, including 18 suites, the brand-new structure was part of an $11-million development, replacing a 1960s-era hotel, which was demolished.
A great asset for the community, the new hotel also features a vibrant lobby, a breakfast area, an exercise room and a pool area among its amenities.
A 10-person installation crew from H.J. Martin and Son – four for ceramic tile, six for carpet – completed the project over a two-month period during the summer of 2017.
Stretched-in carpet over pad was installed in the guest rooms.  In the corridors a custom-printed broadloom carpet, designed specifically for the Marriott hotels chain, required careful placement of the pattern.
Tile, including a ceramic base, was installed within all guest-room bathrooms, on both the walls and floors.  Specialty-designed tile work was utilized in common spaces, including the breakfast area, while wainscoting was part of the installation in public restrooms.
Within the pool area, 24×24, non-skid ceramic tile was installed as the pool deck surface.
Commercial-grade sheet vinyl was installed in the hotel's exercise room.
---
Navigate Featured Projects
Connect With A Specialist