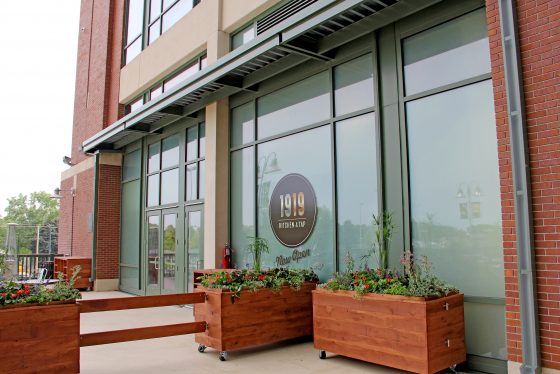 Case Study
1919 Kitchen and Tap
Project Divisions: Flooring & Ceramic Tile
Location: Green Bay, Wis.
Completion Date: April, 2015
Project Description:
In moving the restaurant inside the Lambeau Field Atrium down to ground level, replacing a 12-year old eatery on the second floor, the Green Bay Packers desired an entirely new brand and atmosphere.  The ultimate goal was to make it inviting for year-round guests to the iconic football stadium, not just those visiting on game days, and to appeal to local residents.
From that desire, 1919 Kitchen and Tap was born in July 2015.  The new restaurant at Lambeau Field had a decided factory-style look.  It featured all wood, brick and polished metal, including 80 copper pipes which feed 40 different beers to bar taps from coolers located one floor above.  The interior also highlighted team history through football-themed tabletops and iconic details.
The flooring demanded a distinctive wood design, complementing the other interior elements, and which also could meet the demand of a heavily trafficked area.  Centiva Contour wood planks LVT was chosen to meet this need.  In all 2,808 SF of 6×36 planks were utilized.
Complementing the wood planks was 3,420 SF of Centiva Contour Festival LVT.  It similarly provided a distinguished look, while meeting the durability needs of the restaurant space.
As an experience-driven restaurant, quality materials needed to carry over into the restrooms. For this requirement, Daltile field tiles Invoke and Torreon were utilized on the floors, providing the perfect mix of durability and a modern, concrete look to match the factory-style décor.
Carrying the ornate look over to other parts of the restrooms, Maniscalco's Perth Penny Rounds were chosen.  Its metal capping provided an excellent complement to the polished metal look in the restaurant area.
---
Navigate Featured Projects
Connect With A Specialist