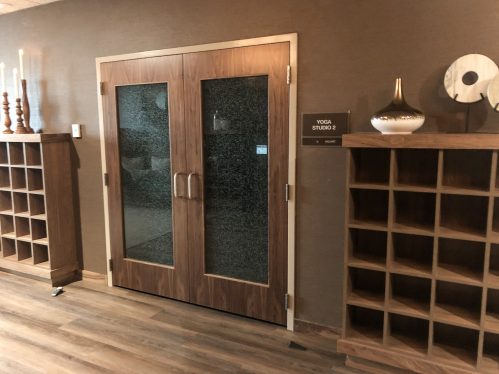 Case Study
Life Time Athletic - Brookfield
Project Divisions: Doors & Hardware, Glass & Glazing
Location: Brookfield, Wis.
Completion Date: November, 2019
Project Description:
Life Time operates nearly 150 large-format health clubs across 30 U.S. states and Canada, which are designed to be a "luxury, resort-style destination." The company brought its first club to Wisconsin in 2019 as part of The Corridor mixed-use development in Brookfield, a suburb of Milwaukee.
The new $47-million facility, 126,423 square feet, includes health-and-fitness amenities such as 400 pieces of cardio and weight equipment; two NBA-size basketball courts; studios for yoga, Pilates, indoor cycling and group fitness; a full-service spa and salon; executive-style locker rooms with saunas and steam rooms; two indoor pools; an outdoor aquatic center; a health-focused café; and an activity area for children.
As with most Life Time locations the project featured extensive use of glass, both on the exterior of the structure and within its interior. A crew from the Glass & Glazing division of H.J. Martin and Son, ranging in size from 4-8 personnel, spent five-plus months completing more than one million dollars of work on this showcase project, overcoming multiple weather-related delays.
The exterior featured Kawneer 1600 curtain wall, a high-performing building envelope solution. It is a stick-fabricated, pressure-glazed system for low- to mid-rise applications, and its concealed fastener joinery creates a smooth appearance.
All elevations, 9,500 square feet, had 500 Wide Stile entrance doors, which create a monumental visual statement while offering superior strength for heavily trafficked areas. The curtain wall was complemented by the Kawneer 450 framing system, also with 500 Wide Stile doors.
A number of specialty glass products were installed within the health club among approximately 5,000 square feet of interior wall mirrors. Glass from Skyline Design was utilized in both the men's and women's locker room areas. The women's locker room also featured custom Stylmark back-to-back framed mirrors.
The new Life Time facility additionally featured 28 all-glass shower doors within the men's and women's locker rooms, expertly installed by the glaziers of H.J. Martin and Son. The company also manufactured in-house, and installed, a five-track, top-hung sliding door system of specialty aluminum doors.
Working in conjunction with company glaziers was the Doors & Hardware division. A crew ranging in size from 1-4 H.J. Martin and Son personnel spent four-plus months on the Life Time project.
A number of unique products were installed on this project. These included a pair of 3form doors, in the spa/salon and the PT workstation areas, along with Thermal Break hollow-metal exterior frames by Ceco Door. Cascade Coil, a material made of coiled wire fabric, was put into place within the LifeCafe®.
Black Walnut wood doors, manufactured by Eggers Industries of Two Rivers, Wis., were installed on the first and second floors for their rich, distinguished look.
Also utilized were Eliason DOUBLE Acting Doors and FALCON® hardware.
---
Navigate Featured Projects
Connect With A Specialist