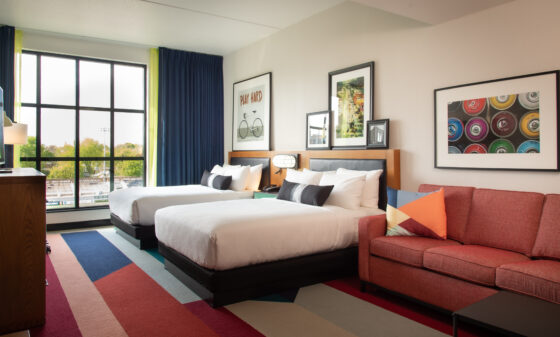 Case Study
Hotel Indigo
Project Divisions: Flooring & Ceramic Tile
Location: Madison, Wis.
Completion Date: April, 2019
Project Description:
Hotel Indigo is a 144-room boutique hotel and restaurant in Wisconsin's capital city of Madison. Sitting on a four-acre property, it consists of a restored, historic five-story building, along with a new structure, also standing five stories.
The 100-year-old building previously was a Mautz Paint warehouse for almost 60 years, and the paint theme was carried over to the hotel's décor. A large Mautz Paint sign hangs over the hotel's reception desk. Complementary elements include paint brushes, rollers and cans as art displays, framed photos of paint cans in guest bathrooms and the appearance of stylized paint dripping from every guest room mirror.
The hotel's unique design is aimed to appeal to travelers who desire one-of-a-kind room layouts. The entire property and surrounding area are tailored to an experiential hotel stay. Nearby are trendy restaurants and brewpubs, in addition to a new music venue.
The guest rooms – 96 of which are in the one-time Mautz warehouse – have 30 different floor plans as project architects were required to work around concrete columns and a variety of windows. For the flooring installation team of H.J. Martin and Son, this nuance presented it with the need for a customized approach to its guest-room work.
The Hotel Indigo project entailed a variety of flooring and tile types: broadloom patterned carpet, carpet tile, luxury vinyl plank, luxury vinyl tile, vinyl composition tile, vinyl base and ceramic tile.
With portions of the historic building required to be left as-is, only so much of the existing concrete floor could be covered. This necessitated that carpet laid in the corridors had to stop inches short of the wall on either side, offering a unique installation.
The project was highlighted by a large number of India-themed patterns within the guest rooms and related spaces. Sixteen different Rug Kits, utilizing Interface® Hospitality carpet tile in vibrant colors, were installed.
Similarly, multi-color tile comprised the bathroom wall tile installations. A 40-inch tile was laid on the bathroom floors.
One challenge of the project was product location. A container was purchased in order to store product on site. It then had to be properly staged.
A 15-person team of H.J. Martin and Son employees worked on this signature project over a six-month period. The company was responsible for all flooring within the hotel with the exception of a kitchen area off the lobby.
---
Navigate Featured Projects
Connect With A Specialist