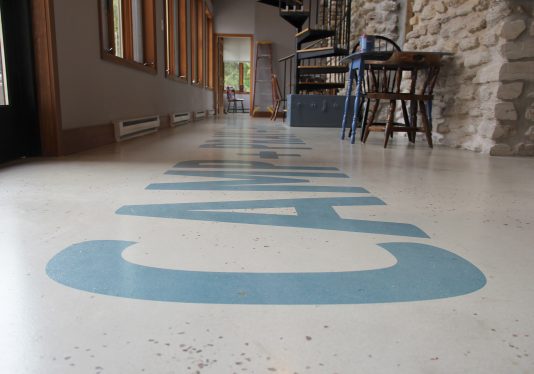 Case Study
Catholic Youth Expeditions
Project Divisions: Flooring & Ceramic Tile
Location: Baileys Harbor, Wis.
Completion Date: July, 2016
Project Description:
Catholic Youth Expeditions is a non-profit organization dedicated to fostering the Catholic Christian community through expedition retreats of prayer, Gospel proclamation and outdoor adventure.  Its "outdoor ministry" for high school and college students occurs at Saint Joseph Formation Center (SJFC) in Baileys Harbor, Wis., along the shores of Kangaroo Lake in picturesque Door County.
The project consisted of a complete remodel of the current SJFC facility: a large fellowship hall, a youth hall, common areas and sleeping quarters for youth coming from outside the immediate area.  A five-person crew from H.J. Martin and Son worked at the site off and on from March through July 2016, navigating around other tradesmen.
One aspect of the project was ElastoCrete, a flexible concrete flooring product.  The work included intricate, inlaid logos, created from the Catholic Youth Expeditions design, in the floor.  On the existing concrete floor, water-jet stencils of one-inch foam were put down, with Elastocrete poured around them.  The stencils then were filled in with blue color, before final finishing.
A challenge met by H.J. Martin and Son related to the condition of the in-place concrete floor.  Variations in both flatness and level were encountered in several areas, which had to be addressed by the company's skilled craftsmen.
H.J. Martin and Son also installed Luxury Vinyl Plank (LVP) in all of the facility's living areas.  It additionally polished the building's original concrete floor.
---
Navigate Featured Projects
Connect With A Specialist