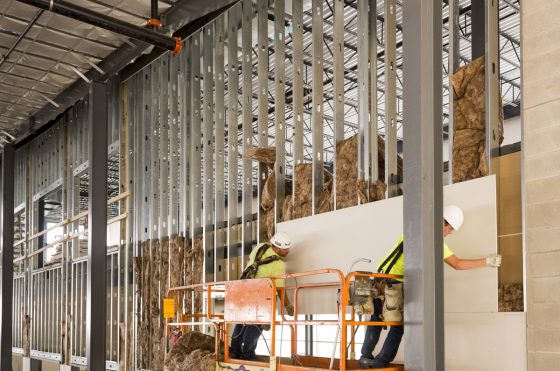 Case Study
New Holland Pavilions at Alliant Energy Center
Project Divisions: Flooring & Ceramic Tile, Walls & Ceilings
Location: Madison, Wis.
Completion Date: September, 2014
Project Description:
The Alliant Energy Center is a multi-venue complex of four unique and versatile venues located in Wisconsin's capital city of Madison, hosting events that include expositions, conventions, meetings, concerts and sporting competitions.
Each year the World Dairy Expo is held at the Alliant complex. The World Dairy Expo is the largest trade show in the state of Wisconsin, with an estimated economic impact of more than $51 million annually to Madison and surrounding Dane County. The event draws in excess of 70,000 dairy producers and industry personnel, including visitors from 92 countries, and serves as a showcase for elite dairy cattle and emerging technologies within the industry.
Alliant planned to replace 11 old and undersized barns, constructed between 40 and 50 years ago, with two modern pavilions – the New Holland Pavilions – in 2014. However, it needed to accommodate its two largest clients, the Midwest Horse Fair and the World Dairy Expo. In mid-April upon conclusion of the horse fair, the barns were torn down to make room for the new pavilions, using the same footprint.
With the dairy expo scheduled to open on Sept. 30 of that year, the entire project from start to finish had to be completed on the very tight timeline of five-and-a-half months. H.J. Martin and Son had its Walls & Ceilings staff on the job site for 20 weeks, starting in May 2014. The company workforce topped out at a 20-person crew.
In addition to the participation of Walls & Ceilings from the outset, Commercial Flooring was brought in on an impromptu basis to help out an existing tile contractor by finishing the floor and wall tile installation.
Built at a cost of $24.9 million, the New Holland Pavilions were designed for the comfort and safety of the roughly 2,600 world-class dairy cattle who attend the annual event. The new, multi-purpose buildings cover almost seven acres and consist of a 90,000-square-foot smaller structure, along with a 200,000-square-foot building.
This unique, large-scale project saw the Walls & Ceilings team of H.J. Martin and Son install 20,000 lineal feet of metal-stud framing and soffit work, plus more than 160,000 square feet of drywall, within the pair of immense structures. Also, 900 lineal feet of plenum was utilized to form the duct chase for the massive ventilation systems.
The H.J. Martin and Son installers played a significant role in the creation of a state-of-the-art ventilation system, using 54 intake fans, that drew raves from dairy officials for its ability to keep cattle comfortable. Walls & Ceilings personnel used structural steel and concrete board to frame the area, as well as specially designing plastic wall panels for the ventilation system.
Within the smaller, climate-controlled Pavilion 1, there was 7,900 square feet of pre-function area for banquets and receptions, along with concession stands, the main lobby and bathrooms. These areas required structural, cold-formed framing with a large amount of detail – work completed under a fast-track schedule by H.J. Martin and Son.
Similar structural, cold-formed framing was needed for the milking parlor within the larger Pavilion 2.
H.J. Martin and Son also was called upon to complete the floor and wall tile installation due to the accelerated schedule to help out an existing contractor. Personalized wall tiles, to be permanently displayed in the main entrance corridor of Pavilion 1, required expert craftsmanship from the company's tile installers. H.J. Martin and Son was able to put six installers on this last-minute project, completing the work in a six-week time frame.
---
Navigate Featured Projects
Connect With A Specialist