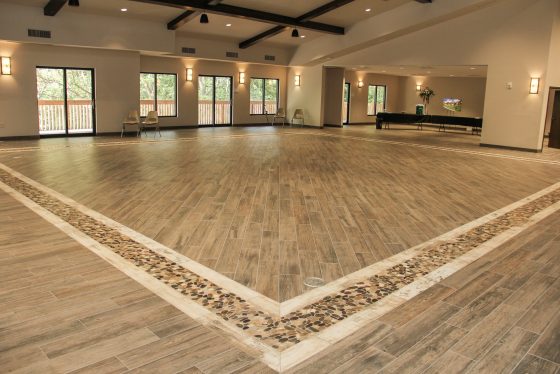 Case Study
The Dick Resch & Family Learning and Conservation Center
Project Divisions: Flooring & Ceramic Tile
Location: Green Bay, Wis.
Completion Date: August, 2019
Project Description:
In the summer of 2019, the Bay Beach Wildlife Sanctuary opened a new facility on the property to host events and a nature-based 4K learning center, the Oak Learning Center. 
The Dick Resch & Family Learning and Conservation Center is a 13,000-square-foot facility, costing $3.1 million, primarily funded by private donations, including former KI CEO Dick Resch. Other donations came from the Friends of the Wildlife Sanctuary non-profit organization. 
The main floor is dedicated to special events including weddings, fundraisers, meetings, and reunions with a capacity of 200 people. The lower level is all classroom space for the 80 students enrolled in the 4K classes, which is part of the Green Bay Public School District.
H.J. Martin and Son Interior Designer Amy Gmeiner worked with the building's architect and general contractor Keller Inc. to design the flooring layout. The overall design was based on natural, warm colors inspired by the plumage of local birds. 
Tile flooring was used throughout for both its durability and ease of cleaning. Wood-look tile and pebble tile was used on both levels. In the event space, the pebbles create an outline of the main floor while in the lower level, the pebbles were set to create natural pathways for the children to use for wayfinding. 
Bathrooms were also tiled on the floors and on the walls. The upper level had a natural slate-look tile on the walls and the children's bathrooms have white subway tile. 
Tile brands used include Anatolia, Interceramic, and MSI. 
H.J. Martin and Son had a total of four crew members to install the flooring; two for ceramic and two for vinyl. The project took our team approximately a month to complete our scope.
---
Navigate Featured Projects
Connect With A Specialist