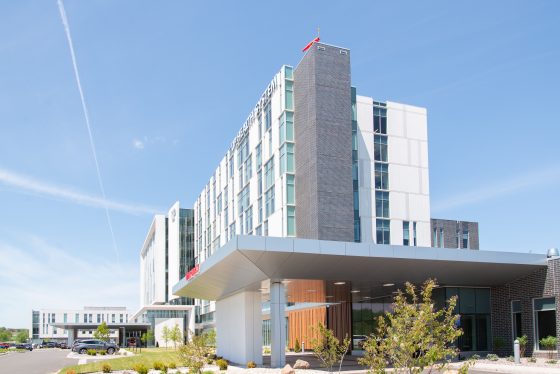 Case Study
UP Health System - Marquette
Project Divisions: Walls & Ceilings
Location: Marquette, Mich.
Completion Date: June, 2019
Project Description:
UP Health System – Marquette is a brand-new, specialty care hospital to serve the community of Marquette in the central region of Michigan's Upper Peninsula. With 307 patient beds, the facility provides care in 65 specialties and subspecialties through a medical staff of more than 200 doctors and 1,800-plus employees. Approximately 9,000 inpatients and more than 350,000 outpatients are served annually.
Built to replace an aging facility that was more than 100 years old, the state-of-the-art medical complex includes a 525,000-square foot hospital and an 80,000-square foot clinical services building and parking garage on 37 acres. Duke LifePoint Healthcare, owner/operator of UP Health System – Marquette, invested more than $330 million on the project.
UP Health System – Marquette represented the largest drywall project in the history of H.J. Martin and Son, which began offering the service in 1984. The company utilized up to 120 employees on the job site at any one time over the course of the nearly three-year project.
The work of H.J. Martin and Son for the new Marquette medical campus included Gypsum Drywall, Cement Board and Exterior Sheathing; Metal Studs and Framing; Tape and Finish; Lead-lined Drywall and Radiation Protection; Sound and Thermal Insulation; Acoustical Ceiling Systems; and installation of Hollow Metal Door Frames.
Estimated quantities of materials utilized on the entire project were more than 80,000 linear feet of interior drywall partitions, almost 30,000 linear feet of exterior wall, nearly 55,000 square feet of drywall ceilings, 17,000-plus square feet of lead-lined drywall and more than 1,900 hollow metal door-frame units.
A unique aspect of the project was the extensive prefabrication work done by H.J. Martin and Son. Starting in August 2016, the company began panelizing work off-site at nearby K.I. Sawyer Air Force Base, utilizing four employees. Besides providing the opportunity to get a jump on the project at the outset, other benefits of prefabrication included the enhanced safety of a controlled environment, shorter construction times, financial savings, reduced disruption in comparison to on-site work and consistency in quality.
By late 2016, H.J. Martin and Son had fully ramped up its staffing on the hospital site. Along with the large-scale drywall work being done on-site, the prefabricated work was incorporated. Whole bathrooms were framed at Sawyer AFB before being hauled to the job site, lifted to their position by crane and put into place.
As with any large-scale project, the on-site project managers of H.J. Martin and Son oversaw multiple work areas, often on separate floors. Another challenge met was the successful mitigation of the sometimes harsh weather conditions of the U.P., particularly during the winter months, and getting the building enclosed in an efficient manner.
H.J. Martin and Son engaged the local community, hiring approximately 70 people to work on the hospital project. The full-time company employees would work four 10-hour days, stay in area apartments during the week and travel home for weekends.
---
Navigate Featured Projects
Connect With A Specialist