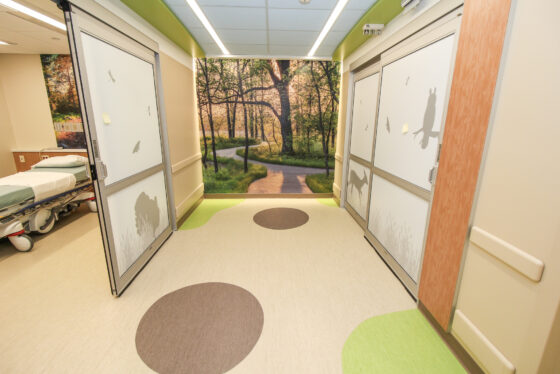 Case Study
HSHS St. Vincent Children's Hospital Pediatric Emergency Center
Project Divisions: Flooring & Ceramic Tile
Location: Green Bay, Wis.
Completion Date: October, 2019
Project Description:
HSHS St. Vincent Hospital has served the community of Green Bay, Wis., for more than 130 years. In 2015, the healthcare provider announced a dedicated children's hospital within its existing facility – one of only five children's hospitals in the state – that serves nearly 20,000 pediatric visits annually.
Four years later, the healthcare provider took its commitment to area kids a step further with the opening of the HSHS St. Vincent Children's Hospital Pediatric Emergency Center. The 2,500 square feet of renovated space included a large play area with interactive games, a spacious waiting room and six patient rooms specifically designed for children. The ultimate goal was to create an environment of hope and healing, which was done through the use of evidence-based design.
The new facility was intended to put families at ease, utilizing forest murals at the head of each bed and a Northwoods theme throughout. Customizable colored lighting offers kids the opportunity to choose their favorite color within each patient room.
The flooring was used to create spaces that look like a forest pathway with large, pebble-like insets and green sheet vinyl to represent grass, complementing the overall nature theme. The floor pattern follows the shape of a few wall graphics in order to extend the pathway visually.
A challenge successfully met was unique pattern cutting and ensuring that pattern lines lined up to wall graphics. To illustrate, there is a path cut into the hallway that meets up to a path in the tree graphic on the wall; these line up to create Trompe l'oeil.
Tarkett iQ Optima homogeneous sheet vinyl – in the colors of Malt, Forest Thickett and Clover Leaf – was utilized in the hallways, patient rooms and waiting area.
Luxury vinyl tile (LVT) by Tandus Centiva, in Ore and Ash colors, was used in the reception and lobby areas.
In the restrooms, Crossville/Virginia Tile Main Street Tile (Cinema Champagne color) and Ceramic Tileworks Mod tile and Mod Penny rounds (biscuit color) was installed.
The work of H.J. Martin and Son on this project was honored as the Gold Award winner in Healthcare in the 2020 Starnet Design Awards. This national recognition presented annually is determined by creative use of flooring, flooring design and integration into the overall space, and successful meeting of client objectives.
A team of seven installers from H.J. Martin and Son completed the phased work over a five-month period in the second half of 2019.
---
Navigate Featured Projects
Connect With A Specialist