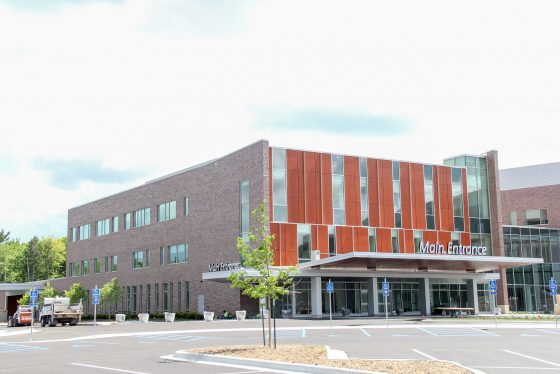 Case Study
Aurora Bay Area Medical Center
Project Divisions: Walls & Ceilings
Location: Marinette, Wis.
Completion Date: July, 2018
Project Description:
Aurora Bay Area Medical Center is a new, 332,000-square-foot hospital and medical office building on 91 acres. Built at a cost of $135 million, it serves the rural area of Marinette, Wis., and neighboring Menominee, Mich.
The full-service hospital structure offers 64 patient beds, along with emergency and trauma services. Aurora Bay Area Medical Center also has an outpatient women's health center and a regional cancer center.
The medical center's design reflects its rural setting, with extensive use of wood and stone, plus views of its natural surroundings. At the same time, it also features the latest medical technology and an efficient use of the facility's space.
The ground was broken for the new facility in May 2016, and the Walls & Ceilings division of H.J. Martin and Son began its on-site work three months later in August.
The company's four-person crew handled all exterior framing, including steel studs, over the ensuing nine-month period.
A unique feature of this project was the installation of Glass-Mat Sheathing by the H.J. Martin and Son team while it was drywalling the exterior with waterproof material. This product is non-combustible, moisture- and mold-resistant panels designed for use under exterior claddings where conventional gypsum sheathing products traditionally have been used.
H.J. Martin and Son also handled the ceilings installation across a wide range of locations within the medical center, using multiple different products.
Most striking among these was the linear wood ceiling system in the main lobby. It provides a rich look to visitors, while also complementing the rustic design elements of the facility.
In the kitchen area, both acoustical wall panels and a wood slat system were installed.
CertainTeed® ceiling tile, in 2'x2' size, was the predominant choice for a majority of the facility. Among the specific products installed were the company's Symphony®m Reveal Edge mineral fiber ceilings; RX Symphony®m Square Lay-In tiles, designed for use in patient and emergency rooms; Symphony®f Reveal Edge tiles, made for open areas and to enhance conventional lighting; and VinylShield™a Square Lay-In tiles, designed for sanitary and clean room applications.
Also utilized were Armstrong® DUNE Reveal Edge tile, along with Gridstone® vinyl-covered sheetrock, a food-grade washable tile.
Another unique aspect of this ceiling installation was the use of a gasket grid and tile in clean room spaces.
A crew ranging from 2-6 H.J. Martin and Son carpenters spent 12 months working on the ceilings of this project, from June 2017 through May 2018.
The Aurora Bay Area Medical Center project was performed with an uncommon business arrangement. H.J. Martin and Son partnered with the general contractor, The Boldt Company, to bill based on its actual hours worked and cost of materials.
---
Navigate Featured Projects
Connect With A Specialist