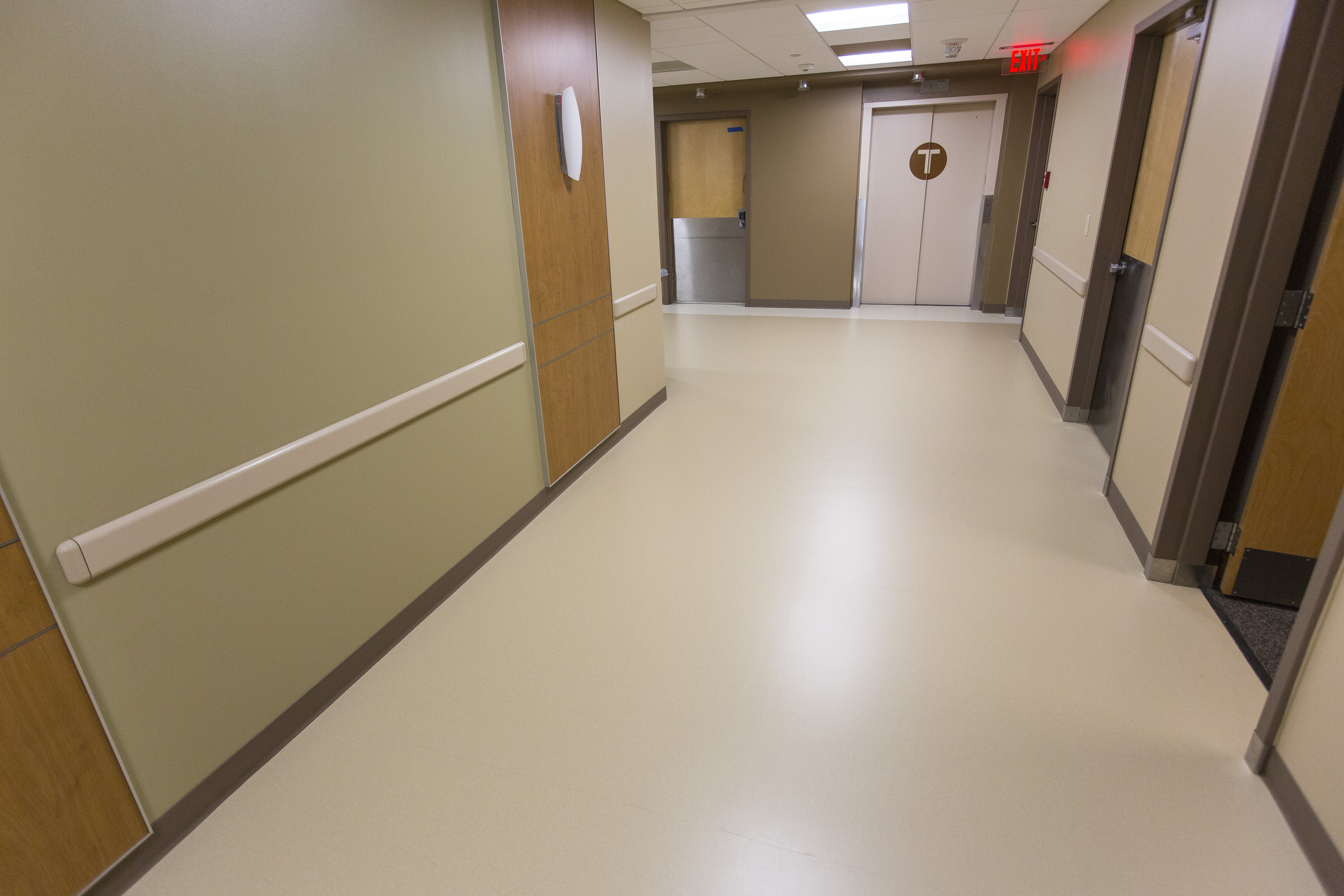 Case Study
St. Mary's Hospital Medical Center
Project Divisions: Flooring & Ceramic Tile, Walls & Ceilings
Location: Green Bay, Wis.
Completion Date: September, 2014
Project Description:
St. Mary's Hospital Medical Center in Green Bay, Wis., took its existing, unoccupied second-floor space and turned it into an all-new orthopedic center and one-day outpatient surgery unit. A $15.8-million project, it was completed over the nine-month period of January-September 2014.
Both the orthopedic center and outpatient surgery clinic were designed to enhance operational efficiency, along with patient friendliness. Among the items benefitting patients are wide halls and large exam rooms.
At 22,500 square feet, the orthopedic center is divided into three areas – foot and ankle care; orthopedics for hips, knees and shoulders; and a spine center – along with eight sub-specialty areas. The goal was to offer comprehensive care – exam rooms, x-rays, labs and radiology – in a single location.
The one-day outpatient surgery unit has 26 rooms for pre- and post-op patients, with private changing rooms and restrooms, among its 10,000 square feet.
Two divisions of H.J. Martin and Son – Walls & Ceilings and Commercial Flooring – participated in the project, exercising flexibility to follow the work schedule outlined by hospital leadership.
Walls & Ceilings handled the interior wall installations, including framing, steel studs, drywall, taping and finishing.  Its work also involved the installation of lead-lined walls in radiation rooms.
The Walls & Ceilings team was on site for six months, adhering to a phased timeline to remain sensitive to working in the sterile environments of a medical center. Crew size ranged from 10-15 installers over the course of the project.
The company's Commercial Flooring division oversaw the installation of a variety of flooring products, including carpet tile, several types of tile, sheet vinyl and rubberized flooring. An important part of the installation was extensive flash-coving and scribe work, expertly handled by the experienced installers of H.J. Martin and Son to prevent bacteria at the wall base for the life of the flooring product.
A vibrant color palette was utilized in the flooring to provide an uplifting patient environment. Among the flooring products installed within the orthopedic center was Philadelphia™ Commercial Unify and Shaw Fade carpet tiles; Milestone™ ceramic tile (in two colors); Forbo Marmoleum resilient (sheet vinyl with coving and welding); and Philadelphia™ carpet tile color accents.
In the nursing area and surgery center areas, the install was particularly challenging. The team from H.J. Martin and Son needed to have the floor prep exactly right, ensuring that the concrete base was flat and had the proper moisture conditions necessary to receive the adhesive.
Meeting that challenge, company personnel installed 23,400 square feet of noraplan® Sentica rubber sheet flooring in four colors, including flash-coving work.
Other flooring products installed in these areas were Crossville Bluestone and Cross-Colors® tile; Mohawk Forward Vision carpet tile; Crossville Main Street porcelain stone tile; and Daltile Semi Gloss and Matte™ (wall) field tile.
---
Navigate Featured Projects
Connect With A Specialist