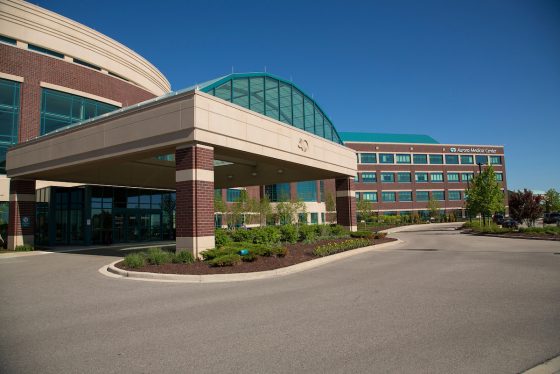 Case Study
Aurora Cancer Center
Project Divisions: Walls & Ceilings
Location: Grafton, Wis.
Completion Date: March, 2017
Project Description:
The Aurora Cancer Center is a 30,000-square foot outpatient facility offering a comprehensive cancer care program, including infusion therapy, radiation, medical, breast, orthopedic and surgical oncology services.  Located just north of Milwaukee in Grafton, Wis., it was built at a cost of $11 million (without equipment) and received LEED Silver certification from the U.S. Green Building Council.
The Walls & Ceilings team of H.J. Martin and Son provided steel-stud framing, drywall and interior finishing.  The ceilings featured a custom-made architectural design that utilized both inverted and recessed designs.
Two significant challenges were overcome on this project.  Large, unique radius walls and soffits in the entrances needed to be framed, sheet-rocked and finished without waves or buckles.  Additionally, seven radiation rooms required lead-lined drywall panels that weighed in excess of 600 pounds and which took four employees to safely install a single panel.
In all, 20,000 lineal feet of metal track, 90,000 lineal feet of metal studs, 200,000 square feet of drywall and 26 tons of lead board were utilized on this project.
H.J. Martin and Son was honored with a 2013 BUILD Wisconsin Award by the Associated General Contractors of Wisconsin, in the Specialty Contractor-Interior Finishes category, in recognition of its work on the Aurora Cancer Center.
---
Navigate Featured Projects
Connect With A Specialist