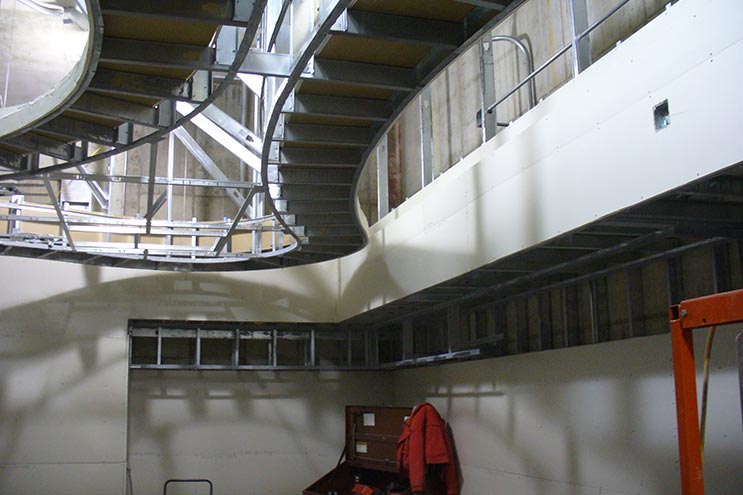 Case Study
Bellin Cancer Center
Project Divisions: Walls & Ceilings
Location: Green Bay, Wis.
Completion Date: March, 2011
Project Description:
Bellin Health System is an integrated healthcare delivery system in Northeast Wisconsin that desired a modern, dedicated facility for its Cancer Team. In 2008 Bellin Health constructed a $6-million, 30,000-square-foot building on the western edge of Green Bay, Wis. A fast-paced project, the Bellin Health Cancer Center was built in less than one year under an aggressive schedule.
H.J. Martin and Son handled the Walls & Ceilings work for Phase 1 in 2008, returning in 2010 to complete Phase 2.
Phase 1 work included the installation of 220-pound pieces of lead-lined sheetrock in the cancer center's radiology rooms. Exacting installation was imperative to prevent hazardous and costly outcomes.
Metal-stud framing, drywall and insulation were other aspects of H.J. Martin and Son's Phase 1 work, which occurred during the winter months of Wisconsin, making outside work in the cold weather a challenge.
Phase 2 was more complicated, largely due to the fact that the cancer facility now was open. Chief among the facility's concerns was dust and germs coming into contact with the on-site cancer patients.
Night work was done to tie the existing (occupied) and new areas together. Phase 2 began in December 2010 and was completed by March 2011, using a crew of six (and sometimes more) from the H.J. Martin and Son Walls & Ceilings team.
Phase 2 involved finishing roughly one-third of the existing building with additional examination rooms and enhancement of the treatment area.
The building's soffits were designed in a floating style, using 8-inch structural studs up to 30-feet long. H.J. Martin and Son personnel were required to tie the previously unfinished portion of the structure into the existing treatment space with already-finished soffits.
Additional challenges included having to match new finishes to those already in place, along with night-shift work during winter months and having to store materials outside in containers until needed.
The Commercial Flooring division of H.J. Martin and Son also played a role in these projects. With a wide variety of patient areas, different types of flooring were required. Carpet tile and vinyl composition tile (VCT) were among the products installed.
Soothing tones were utilized in the areas utilized by the center's oncology and hematology patients.
---
Navigate Featured Projects
Connect With A Specialist