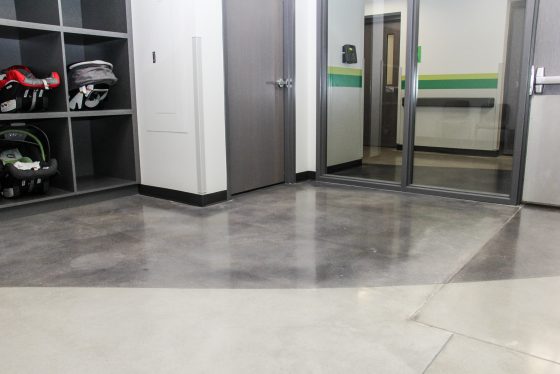 Case Study
CP Expansion and Renovation
Project Divisions: Flooring & Ceramic Tile, Polished Concrete, Walls & Ceilings
Location: Green Bay, Wis.
Completion Date: September, 2018
Project Description:
CP provides individualized solutions for a variety of physical, sensory and communication conditions to residents of Northeast Wisconsin. Its staff works with more than 2,100 people of all ages annually.
The non-profit organization offers services in four main areas: Adult Day Services for adults with physical and developmental disabilities; Therapy Services in speech, physical and occupational therapy for infants through adults; Early Education & Care for all children, regardless of ability; and an Aquatic Center, a state-of-the-art facility with two warm-water pools open to the public for both open swimming and therapy.
With a desire to offer its services to more individuals, CP designed a building expansion and renovation project. Funded by a $7.5-million capital campaign, the footprint of the CP facility grew from 46,500 square feet to roughly 68,000 square feet.
Phase One of the project was the building addition. Completed in May 2018, two of the core programs – Therapy Services and Early Education & Care – moved into the brand-new section. With the increased space of one new classroom, Early Education & Care was able to serve 16 additional children. Therapy Services could up its capacity by 31 people per month through its new areas.
CP administrative staff also moved into the addition.
Phase Two began immediately upon completion of the new building, wrapping up in September 2018. It entailed turning the former administrative and childcare areas into new, flexible program space for the growing Adult Day Services, along with a new lounge and locker room space within the Aquatic Center. With the expansion of its available area, Adult Day Services was able to increase its offerings by 30 people per day.
H.J. Martin and Son provided acoustical ceilings, polished concrete services and other flooring installation for the project. The goal was to move from the feel of an institutional environment to one that is contemporary, bright and open.
H.J. Martin and Son worked with CP leadership and the project architect, Somerville, for more than a year to plan and to develop a process and scope for the concrete polishing. The Somerville design team  wanted to incorporate a new, wavy design of polished concrete floors with stained accents.
The challenge of the intricate design was met through accurate planning and layout. Designs were mechanically cut into the concrete floor, then stained and dyed within those designs.
With designs measuring 25-30 feet long and up to 40 inches wide, along with the utilization of varying patterns, H.J. Martin and Son personnel had to mathematically estimate benchmarks and measure off the walls to ensure that the designs were a mirror image of each other.
Working alongside and around other on-site tradesmen, the six H.J. Martin and Son technicians delivered a finished product which was dazzling.
Moving to the renovation of the in-place portion of the facility, H.J. Martin and Son utilized the prior designs on the existing concrete floors for a uniform look throughout. Repairs and profiling of the concrete were required before commencing with the polished-concrete process.
Eight H.J. Martin and Son crew members completed this phase of the work over a six-week period.
A small amount of resilient flooring also was installed by the company, along with acoustical ceiling work.
CP Executive Director Jon Syndergaard was complimentary of the "outstanding service" provided by H.J. Martin and Son. Syndergaard praised the fact that H.J. Martin and son tried to be cost-effective and flexible while working within the non-profit environment of CP.
---
Navigate Featured Projects
Connect With A Specialist