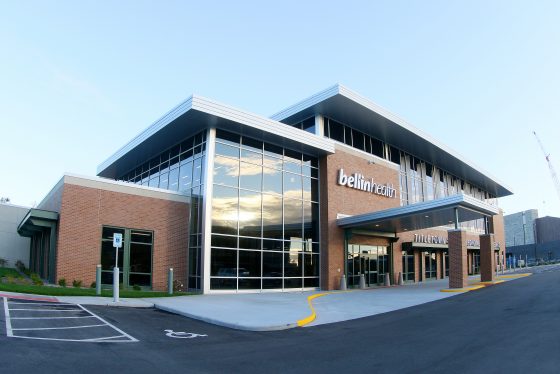 Case Study
Bellin Health Titletown Sports Medicine & Orthopedics
Project Divisions: Doors & Hardware, Flooring & Ceramic Tile, Glass & Glazing, Walls & Ceilings
Location: Green Bay, Wis.
Completion Date: July, 2017
Project Description:
The Bellin Health Titletown Sports Medicine & Orthopedics clinic is the premier sports-medicine practice in Northeast Wisconsin, with four Fellowship-trained orthopedic specialists on staff. Opened in July 2017, the 52,000-square-foot facility is located within the Green Bay Packers' Titletown District development, adjacent to iconic Lambeau Field.
With first-class orthopedists and facilities, Bellin Health Titletown Sports Medicine is geared towards injury prevention, performance improvement, and treatment and therapy for injuries. It includes a laboratory, x-ray and MRI areas, along with sports nutrition and sports psychology services.
Four commercial divisions of H.J. Martin and Son participated in this showcase project: Walls & Ceilings, Glass & Glazing, Doors & Hardware, and Flooring & Ceramic Tile.
Craftsmanship took several forms on the Bellin Health Titletown Sports Medicine & Orthopedics clinic project.
The Walls & Ceilings division oversaw interior and exterior metal-stud framing, drywall installation, taping and finishing, exterior sheathing, and sound batt insulation in walls. Lead-lined gypsum was installed in diagnostic areas, such as x-ray rooms.
Unique craftsmanship was required of the Doors & Hardware division. A barndoor made of 2×4 wood pieces, with VCT plank over the top, was included in the project's design. H.J. Martin and Son personnel installed custom-sized track, along with its hardware, on the barn door to ensure functionality.
A wide variety of flooring products – carpet tile, vinyl, ceramic tile and access flooring – were installed on this project. H.J. Martin and Son also oversaw the installation of several unique floors: turf for the complex's football and baseball fields, a hardwood basketball floor, and Mondo sports flooring.
The company's Glass & Glazing division handled all of the clinic's exterior glass, in addition to the curtain wall and the automatic entrances. Six- and 10.5-inch curtain wall – larger than normal sizes – were utilized on the project. Special sunshades in Packers green were installed on the building's exterior.
The challenges on this project came in several forms. The company's Walls & Ceilings division met a challenging timeframe to complete its work, with up to 30 skilled carpenters on site at any one time. The Glass & Glazing division also successfully overcame a tight timeline.
The Bellin Health Titletown Sports Medicine & Orthopedics clinic was a large-scale project for the Doors & Hardware division. More than 110 locksets were installed, along with a number of electrified systems for security purposes: 16 electric strikes, an electrified exit trim door and an electrified trim for a panic device. Four lead-lined openings for x-ray rooms, in addition to a significant number of continuous hinges, were installed to maintain a safe environment for the building's users.
Innovation was a part of this project through all scopes. An innovative ceiling system was required on this project in order to prevent noise from the second-floor gymnasium and turf field areas from reaching the first-floor clinic areas and disturbing doctor-patient interactions.
A sound-isolation ceiling system from Kinetics Noise Control was the identified solution. Its installation by the Walls & Ceilings division covered approximately 70 percent of the first floor, isolating sound transfer from the second floor.
The Doors & Hardware division also innovated on this project, developing a way for bi-folds to be located near panel-fold doors. Company personnel planned extensively and worked out how to get them to function properly, yet still be convenient for users. Fabrication then was done in-house.
The Glass & Glazing division installed Smart Film Glass by Wheellok Inc. This solution gives "privacy on demand," along with providing solar-heat reduction. Within the clinic, Smart Film Glass allows physicians, athletic trainers and other Bellin staff the ability to turn glass from clear to frosted with only the flick of a switch – the ultimate in a quick transition from transparency to privacy.
Not only did H.J. Martin and Son actively participate in the work on this transcendent facility, the company and its owners, Edward and Terri Martin, were significant benefactors. As part of a six-figure contribution, the "Edward & Terri Martin Family Atrium, sponsored by H.J. Martin and Son, Inc." was born.
The Martin Family Atrium is a 3,000-square-foot lobby which welcomes an estimated 40,000 annual visitors to Bellin Health Titletown Sports Medicine & Orthopedics. Along with serving as a comfortable lounge for those waiting on patients and athletes, the center also has the ability to meet the community, educational and conference space needs.
The project was also awarded the 2018 Excellence in Structural Engineering Award.
---
Navigate Featured Projects
Connect With A Specialist