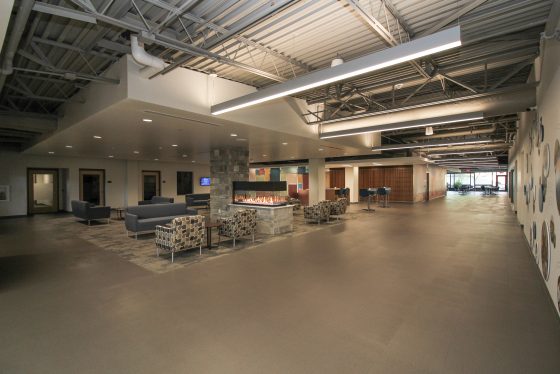 Case Study
Curative Connections
Project Divisions: Flooring & Ceramic Tile, Walls & Ceilings
Location: Green Bay, Wis.
Completion Date: July, 2019
Project Description:
Curative Connections has assisted families, seniors and people with disabilities to find support and care due to aging, dementia, brain injury or other disability for more than 70 years. The goal is to help these individuals navigate options to support independence and to allow them to build life skills. Among the primary offerings of Curative Connections is early memory loss support, employment help for displaced older workers and services for people with dementia.
The organization's facility was in need of significant changes in order to continue to provide quality services to a growing user base. Through an $8.5-million capital campaign, Curative Connections renovated its existing 65,000-square-foot building, and did so without interruption to any of its daily services.
The renovation doubled spaces for Adult Day Services (including those with dementia) and for people with brain injuries and other neurological impairments. It also expanded the employment-related service area and added a new space for the growing number of adults with autism. On a macro level, the work entailed reconfiguration of interior spaces, installation of new finishes and lighting, and expansion of the main lobby entrance – all done to increase the building's functionality.
Two divisions of H.J. Martin and Son – Walls & Ceilings and Commercial Flooring – participated in the renovation of Curative Connections. The length of the project was extended due to its phased nature; for instance, the company might be asked to do three rooms, then come back later to do additional spaces.
Wall & Ceilings installed acoustical ceilings – Armstrong® Grid and Tile – throughout the entire building, 52,400 square feet in all, utilizing a crew of three over the seven-month period from November 2018 to May 2019. The work included offices, conference rooms, a fitness area, classrooms, medical exam rooms and restroom/locker room areas, along with hanging, partial ceilings within common spaces.
A unique aspect of the ceiling installation was the use of a wood slat ceiling – Armstrong® WOODWORKS Grille – in the renovated reception area of Curative Connections. This product offers warm, natural wood ceilings in rectilinear solid wood panels to create dramatic lines. There also was an expansive utilization of ceiling tile within the lobby, which had an elevated height.
Along with the obstacle of phased work, a related challenge successfully met by H.J. Martin and Son was the scheduling of manpower based on project demands at any one time.
The Commercial Flooring division of H.J. Martin and Son beta-tested the chemical abatement process of Milliken for installation of the company's modular carpet tile and luxury vinyl tile (LVT) products on the Curative Connections project. This process rejects the remaining adhesives and decreases the rate that they migrate from the sub-floor.
A fully warrantied floor was the result of H.J. Martin and Son being the first installer to test this new system for Milliken.
Mannington® sheet vinyl and Johnsonite Cove Base also were part of the Curative Connections installation.
H.J. Martin and Son installers expertly navigated multiple flooring product transitions, often LVT to carpet tile, in high-visibility areas.
Along with conducting the chemical abatement process, the other challenge overcome by Commercial Flooring was the work being done in three phases over a six-month period, wrapping up in July 2019. Two to three installers were utilized as needed.
---
Navigate Featured Projects
Connect With A Specialist