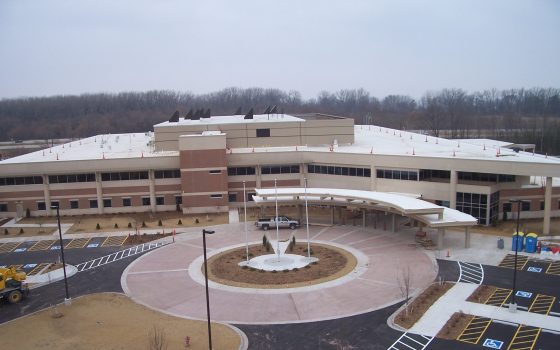 Case Study
Milo C. Huempfner VA Outpatient Clinic
Project Divisions: Flooring & Ceramic Tile
Location: Green Bay, Wis.
Completion Date: August, 2013
Project Description:
A brand-new healthcare clinic for military veterans opened in August 2013 on the east side of Green Bay, Wis. The two-story, $60-million facility improved care for veterans in Northeast Wisconsin, many of whom previously made a two-hour drive to Milwaukee for services.
In addition to the patient space, the 161,000-square-foot center included family waiting areas, a cafeteria, a resource center with public computers and a retail store.
The facility was designed with an earth-tone palette, complemented by natural light and clean lines, to provide a relaxing environment for visitors. Functionality and safety were blended with a pleasing design to benefit the roughly 15,000 veterans using the clinic annually.
The commercial flooring division of H.J. Martin and Son handled this very large sheet vinyl and vinyl tile installation. The primary products utilized were Johnsonite Optima sheet vinyl and AZrock vinyl tile.
Another distinctive aspect of this project was the extensive use of nora®, an innovative rubber flooring product often utilized in healthcare facilities, requiring stringent certification training to install it. nora® was installed in operating and patient examination rooms.
A particular challenge on this installation was the high amount of flash coving and three-wall, direct-scribe work, which is a prerequisite for any medical facility as a way to prevent bacteria at the flooring base.
Carpet tile was installed in the lobby and office areas.
Due to the facility's overall size and the variety of products utilized, there were multiple transitional points between different types of flooring.
Installers had to be specially approved to work on this project. All on-site workers were required to receive flu shots, along with collaborating closely with clinic staff for access to restricted areas.
---
Navigate Featured Projects
Connect With A Specialist