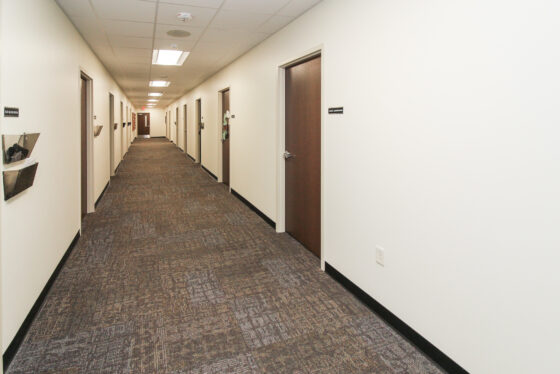 Case Study
Outagamie County Government Center
Project Divisions: Walls & Ceilings
Location: Appleton, Wis.
Completion Date: July, 2019
Project Description:
Outagamie County is a county of nearly 200,000 residents within a total area of 645 square miles in Northeast Wisconsin, primarily encircling the city of Appleton. With continued population growth and an aging, overcrowded administration building, county leaders voted in late 2015 to expand its downtown campus after receiving the results of a space needs study.
Renamed as the Outagamie County Government Center upon completion, the project linked the County Administration Building, the Health & Human Services Building and the Justice Center into one complex. The revamped facility provides enhanced safety for visitors through a single point of entry with a security checkpoint.
Work on the 27-month, $30.6-million project began in May 2017. The project included an 87,000-square foot addition, along with remodeling the 224,000 square feet of existing space. The expansion eased office overcrowding.
Completed in phases, the initial phase – additions to the Justice Center and Health & Human Services building – was completed midway through 2018. Employees then were moved into the new spaces, allowing for renovation of their prior quarters.
The Walls & Ceilings division of H.J. Martin and Son joined the project in October 2017, spending the ensuing 21 months on site until wrapping up its work in June 2019. The company's crew size varied throughout, ranging from a half-dozen employees up to roughly 35. During the initial 5-6 months on site, personnel was on the higher end. In the final phases, it often was in the 6-10 area.
This large-scale project utilized 289,356 lineal feet of studs and track, 406,768 square feet of gypsum board and 182,592 square feet of insulation.
Much of the framing and drywall work centered on office areas. Approximately 90 percent of the framing material was the standard 3-5/8" studs and track. Drywall similarly was the standard 4'x12' size.
From an insulation standpoint, normal sound batt materials were installed. Thermafiber® sound insulation was utilized in all full-height walls; Thermafiber® is a denser material, helping it to eliminate sound transfer between rooms.
Within all of the restrooms, tile backer drywall was installed in order to prepare it to receive tile.
The challenge of staying on schedule on this large-scale project was met. At times, H.J. Martin and Son personnel were working on three different floors simultaneously with a mix of framing, sheetrock work and finishing.
---
Navigate Featured Projects
Connect With A Specialist