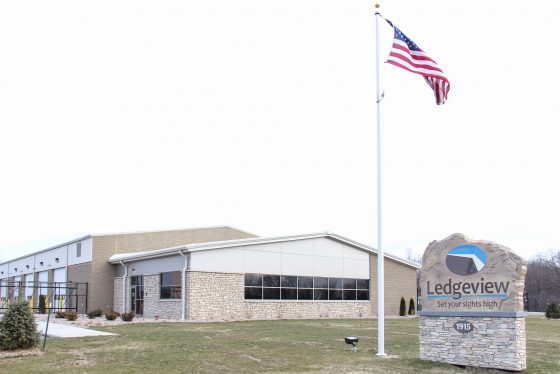 Case Study
Town of Ledgeview Public Works Facility
Project Divisions: Glass & Glazing, Polished Concrete
Location: Ledgeview, Wis.
Completion Date: January, 2018
Project Description:
The Town of Ledgeview is a growing community on the southern edge of Green Bay. Its public works facility originally was designed as a fire station, making it inefficient in the existing operational layout. The building also had become inadequate in terms of available space, necessitating that much of the town's equipment had to be left outdoors year-round, causing rust and other wear and tear related to continuous exposure to the elements.
With the passage of an $8-million referendum by voters in November 2016, Ledgeview leaders began the process of designing and constructing new facilities to serve the town for the next 25 years, during which 79-percent population growth is anticipated.
The Town of Ledgeview Public Works Facility is a 14,704-square-foot facility which opened for use in January 2018. It includes 10,306 SF dedicated to a maintenance garage, with four drive-through bays, a wash bay, workspace and storage space. The new space provided areas specifically for welding and fabrication, painting and paint storage, shop work, and tool storage.
There also is 3,066 SF of office space, housing one private office, four workstations, a staff locker room and a break room. There is a 1,332-SF mezzanine level for additional storage space.
The Glass & Glazing division of H.J. Martin and Son was chosen to handle the glass installation for this new, multi-purpose facility.
The Trifab™ VersaGlaze™ 451T Framing System by Kawneer was installed. This aluminum storefront offers high thermal performance and blast mitigation, among other features. Windows and interior glass also were part of the work on this project.
A two-person team from the H.J. Martin and Son Glass & Glazing division performed this installation over a three-week period in October 2017.
The company also handled the facility's concrete polishing, a high-gloss flooring solution that offers superior durability, reduced long-term maintenance costs and quality performance. Areas with concrete polishing included office space, conference rooms and restrooms.
Approximately 1,800 SF of concrete polishing was completed by H.J. Martin and Son over a seven-day span in November 2017. The finishing touch was the application of the Ashford Formula, a densification system that seals, hardens and dust-proofs the surface.
---
Navigate Featured Projects
Connect With A Specialist