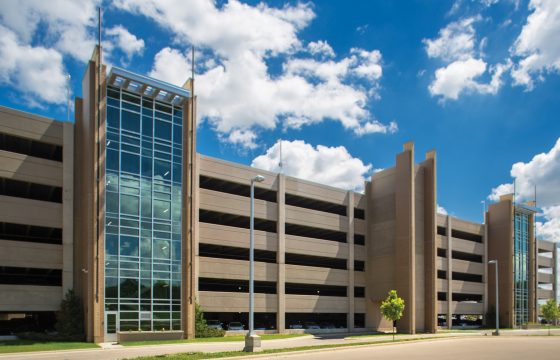 Case Study
Dane County Airport
Project Divisions: Glass & Glazing, Walls & Ceilings
Location: Madison, Wis.
Completion Date: July, 2017
Project Description:
The Dane County Regional airport parking expansion adds three levels of parking, amounting to nearly 1,500 spots, to a standing parking structure of the airport serving Wisconsin's capital city of Madison.
Completed in a 57-day period, the project met the challenges of working at extreme height and around a number of complementary tradesmen. The project features a new six-story curtain wall, installed in limited space on the building's east side, along with a new elevator tower and stair tower between an existing three-story parking ramp and the ramp expansion. The expansion also extended existing three-story curtain walls an additional three stories.
Two divisions of H.J. Martin and Son took part in the project. The walls & ceilings team handled structural metal studs and beak metal flashings, along with drywall finish repair of prior water damage within the in-place structure. H.J. Martin's glass & glazing division installed the curtain wall.
For more information about the Dane County Airport visit: http://dane-county-airport.com/
---
Navigate Featured Projects
Connect With A Specialist