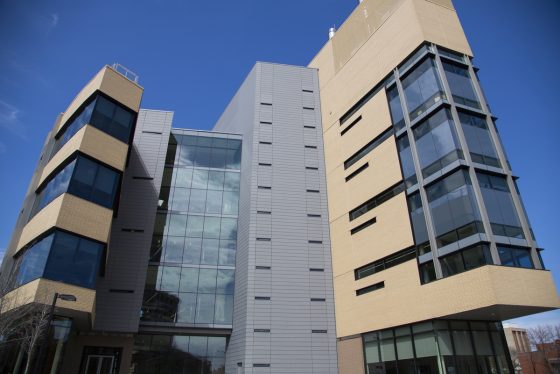 Case Study
Wisconsin Energy Institute
Project Divisions: Glass & Glazing
Location: Madison, Wis.
Completion Date: April, 2013
Project Description:
H.J. Martin successfully installed over 18,000 sq ft of 1" insulated, high-performance glass and spandrel along with over 20,000 linear feet of the finished custom curtain wall. This challenging task was performed off of multiple swing stages and boom lifts on the exterior of the WEI structure. There were as many as six boom lifts in operation at one time. Two of them were able to reach as high as 125 feet.
It was important for UW-Madison that the exterior of the building would be aesthetically pleasing and complement the other beautiful structures on the Wisconsin campus. The exterior framing system was constructed of a four-sided structural glazing system, which required each individual unit of glass to have an interface frame installed on the glass before setting the glass into the framing. This process required a lot of extra handling of each piece of glass.
Curtain wall systems can provide everything from pleasing aesthetics to thermal and wind-load requirements, without losing the structural performance. Some of the vertical mullions were over 30 feet in length and 25 inches wide. When working off of swing stages hundreds of feet in the air, our crews had to take every precaution necessary to protect the custom paint and anodized finish when installing the horizontal and vertical aluminum framing.
---
Navigate Featured Projects
Connect With A Specialist