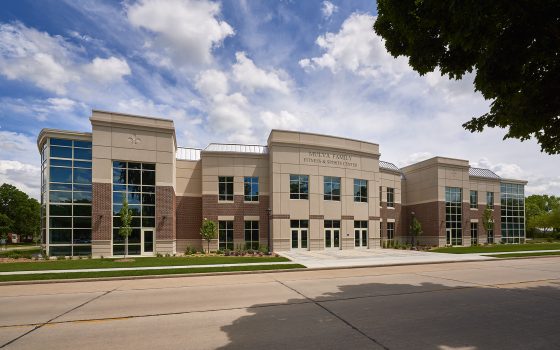 Case Study
Mulva Family Fitness & Sports Center at St. Norbert College
Project Divisions: Flooring & Ceramic Tile, Glass & Glazing, Walls & Ceilings
Location: De Pere, Wis.
Completion Date: May, 2017
Project Description:
The Mulva Family Fitness and Sports Center is a $25.5-million, state-of-the-art complex devoted to fitness, wellness and athletics at St. Norbert College, a Division III institution in De Pere, Wis. The 128,000-square-foot expansion and renovation wraps around the original facility, built in 1979.
The new building features a 25-meter swimming pool, a large fitness center, a weight-training and performance area, space dedicated to health and wellness, a concession area, locker rooms, coaches' offices and a new main entrance, along with classrooms, conference space and a multi-purpose room.
Three commercial divisions of H.J. Martin and Son participated in this project: Walls & Ceilings, Glass & Glazing and Commercial Flooring.
Within the building expansion, Walls & Ceilings handled metal-stud framing, drywall and taping for two floors of classrooms, office space and exam rooms. It also replaced ceilings in existing restrooms and locker rooms, which were renovated. Walls & Ceilings also performed exterior framing work to ready the new building for its brick sheath.
The company's Glass & Glazing division successfully met the challenges of unique product installations and space limitations. A Dot Frit silk screen pattern on the glass surrounding the pool area was installed to reduce light transmission while maintaining an aesthetically pleasing design.
Tight spacing on the exterior of the east side of the building left little room for the H.J. Martin and Son glaziers to maneuver. There was just enough room to operate a lift, but little beyond that.
On that same east side, the curtain wall had a trapezoidal top, making for a more difficult installation as the process requires the angle to be established. On the opposite, northwest curtain wall, there was a segmented frame which curved around. This required a spot-on layout, making for a tricky installation.
The H.J. Martin and Son commercial flooring team had its own set of challenges while installing four different types of product. A vast amount of Daltile ceramic tile was installed on the pool deck and nearby hallways, along with in the restrooms, locker rooms and shower areas. Tile sizes ranged from 2×2 in the showers and on the pool deck, to large format, 12×24 in the locker rooms.
Approximately 1,800 square yards of Interface modular carpet tile, including two custom colors, was installed within office areas, in addition to the Lawrence and Kathleen Gentine Family Wellness Center.
Tarkett luxury vinyl tile (LVT) with Johnsonite vinyl base (5,000 SF) and 945 square feet of Azrock vinyl composition tile (VCT) by Johnsonite also were part of the flooring installation.
---
Navigate Featured Projects
Connect With A Specialist