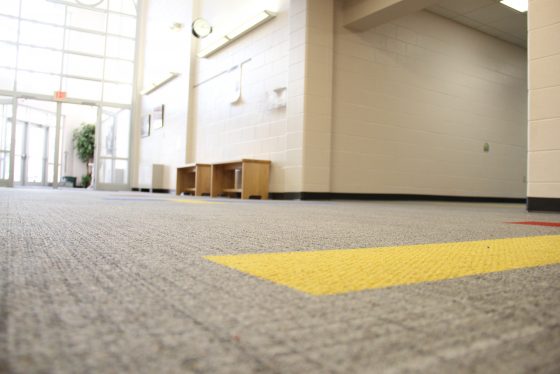 Case Study
St. Mary Elementary School
Project Divisions: Flooring & Ceramic Tile
Location: Menasha, Wis.
Completion Date: August, 2015
Project Description:
St. Mary Elementary School wanted to move away from an institutional feel as part of a flooring overhaul, including the replacement of failing VCT.  As a faith-based educational facility, it also desired to incorporate that aspect of its curriculum into the like-new space.
The removed VCT was replaced with PVC-free Lyceum carpet tile by Milliken.  With its bold strikes of color, Lyceum met the objective of creating a playful, yet sophisticated, space in the corridors.  The updated, fun design also added an acoustical element to assist with noise reduction into the classrooms.
The installed carpet tile was selected to complement the existing wall paint and concrete block walls with a subtle pattern.  A requirement was to add color and pattern in a new way.  This goal was achieved by staggering primary colors across the field of vision in random, linear accent lines.  Creatively, the linear and random accent lines were strategically assembled to meet perpendicularly at a joining corridor – the colorful and purposeful design created crosses to accentuate the religious atmosphere of the facility.
Additionally, the new carpet tile was extended across an existing VCT hallway so that it appears to continue down that corridor, allowing for the extension of the corridor with carpet tile at a later date.
Milliken Gravity walk-off tiles were included in the main entry vestibule and back stairwell to provide a more aggressive carpet-tile option in these high traffic areas.   The flexibility to replace walk-off tiles, along with the added durability, allowed the school to remove the use of loose-laid runners and eliminated potential tripping hazards.
---
Navigate Featured Projects
Connect With A Specialist