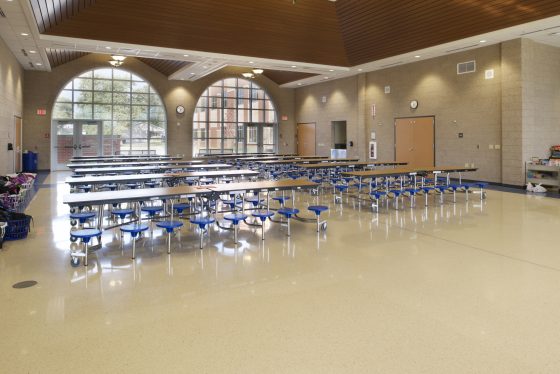 Case Study
Oaklawn Elementary School
Project Divisions: Flooring & Ceramic Tile
Location: Oshkosh, Wis.
Completion Date: September, 2013
Project Description:
Oaklawn Elementary School is a K-5 instructional facility with more than 400 students, located on the north side of Oshkosh, Wis. Rebuilt in 2013, it replaced a 60-year-old school of the same name, sitting on the same site.
The second iteration of Oaklawn Elementary was two stories and contained three distinct sections. To build the new school, selective demolition allowed students to remain in the newest portion of the existing building throughout the 2012-13 school year. Careful planning and diligent safety measures enabled classes to remain in session throughout the project.
H.J. Martin and Son handled the varied flooring needs of the 68,000-square-foot school. Beginning its work in June 2013, the company successfully completed all work in time for the start of classes in the 2013-14 academic year.
The distinctive aspect of this flooring installation was the extensive use of nora®, an innovative rubber flooring product most often utilized in educational buildings and healthcare facilities, requiring stringent certification training to install it. H.J. Martin and Son personnel installed 26,000 square feet of nora® rubber tiles within Oaklawn Elementary.
An additional challenge for the installation team was moisture issues that arose with the underlying concrete. These were overcome by using a two-part waterproofing epoxy under the rubber tiles.
Carpet, carpet tile and stair treads were other aspects of this three-month flooring installation.
School officials were pursuing LEED Gold Certification on this project. H.J. Martin and Son carefully followed the necessary product specifications and installation techniques in order to help make this certification possible.
---
Navigate Featured Projects
Connect With A Specialist