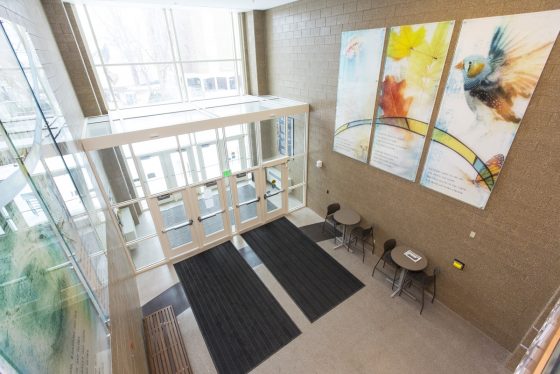 Case Study
St. Norbert College Science Center
Project Divisions: Flooring & Ceramic Tile, Walls & Ceilings
Location: De Pere, Wis.
Completion Date: May, 2015
Project Description:
The Gehl-Mulva Science Center at St. Norbert College in De Pere, Wis., is a state-of-the-art facility constructed from 2013 until early in 2015. The new structure replaced a building that was nearly 50-years old, Minahan Science Hall, to serve St. Norbert students as well as those from the new Green Bay campus of the Medical College of Wisconsin, which admitted its first students in July 2015.
At 160,000 square feet, the new science center features 45 research/teaching laboratories, 10 classrooms, 38 faculty offices, 15 student study lounges and other informal collaborative spaces.
Two divisions of H.J. Martin and Son – Walls & Ceilings and Commercial Flooring – took part in this $39.2-million project.
Using a crew that ranged from 4-6 company personnel, Walls & Ceilings handled metal-stud framing, drywall and sound insulation. Its scope covered both the new structure and the renovation of the existing space.
Walls & Ceilings successfully met the challenges of phased work that took place while students were in-between buildings, along with winter conditions, over a 16-month period.
The Commercial Flooring division touched virtually every area within the new science center.
More than 600 cartons – 26,400 square feet – of Mannington Progressions 24×24 vinyl composition tile (VCT) was installed throughout the classrooms and corridors. Twelve different colors of VCT were utilized.
Complementing the VCT in lecture halls, conference rooms, some corridors, lobbies and break rooms are Atlas Kinetic modular carpet tile and Masland carpet tile, both in 24×24 sizes.
Almost 30,000 square feet of Daltile tile was installed within the restrooms, including Santino on the floors and Invoke wall tile. Crossville Ebb and Flow mosaic tile was used behind the sinks to provide a high-end look. Daltile Metal Fusion tile was utilized in vestibule areas.
The Gehl-Mulva Science Center received LEED Gold certification shortly after completion.
---
Navigate Featured Projects
Connect With A Specialist