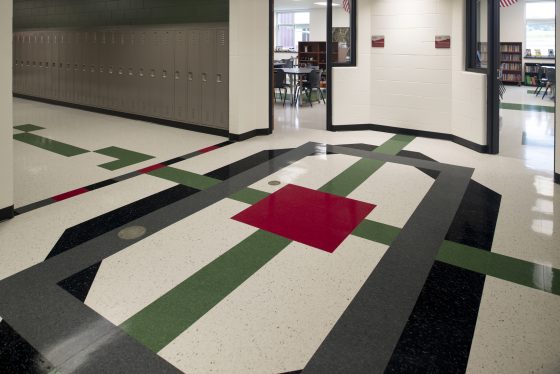 Case Study
North Greenville Elementary School
Project Divisions: Flooring & Ceramic Tile
Location: Greenville, Wis.
Completion Date: August, 2014
Project Description:
North Greenville Elementary School is a new K-4 instructional facility, located in a quickly growing community within Northeast Wisconsin. Built to alleviate overcrowding at the city's other elementary school, it also was designed to allow for future population growth.
Local educators desired large, collaborative spaces with fun colors and patterns. Classroom wings by grade were established that corresponded to flooring colors.
Five different colorful designs of Armstrong Imperial Textures VCT – approximately 45,000 square feet – were installed in the classroom areas and corridors, including fun way-finding elements such as checkered patterns. Vivid, contrasting colors like red and black were utilized.
The "fun" theme extended into the music room, where an intricate piano design using Armstrong VCT was installed.
A variety of Daltile tile products were used throughout the school, including Continental Slate tile in the cafeteria commons and Quarry tile in the kitchen and food service area, as well as Keystone and Semi-Gloss in the restrooms.
With the project being on a tight time frame and a hard completion date in order for the school to be operational for the 2014-15 academic year, H.J. Martin and Son tapped into its large workforce to successfully finish on time. At the height of the project, the company utilized 22 total installers, including 17 for resilient/carpet work, with the other five for tile installations.
The craftsmanship of H.J. Martin and Son on this project was honored in April 2015 with a Starnet Design Award in the Education category.
---
Navigate Featured Projects
Connect With A Specialist