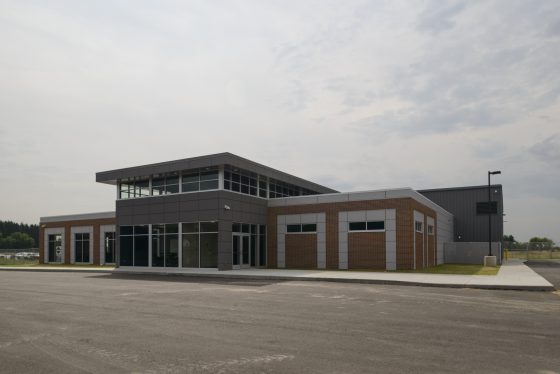 Case Study
Northeast Wisconsin Technical College Universal Driving Facility
Project Divisions: Flooring & Ceramic Tile, Glass & Glazing, Polished Concrete, Walls & Ceilings
Location: Green Bay, Wis.
Completion Date: August, 2017
Project Description:
Northeast Wisconsin Technical College (NWTC) is one of 16 technical and community colleges in Wisconsin. It serves nine counties in the state.
With a significant need in the region for auto technicians, auto collision specialists and diesel medium/heavy truck technicians, NWTC wanted to expand its educational programs in those areas. To do so, the college needed a larger facility, equipped with modern technology. Funding was achieved as part of a $66.5-million referendum approved in 2015.
The first brand-new building constructed on campus in more than 10 years, the NWTC Universal Driving Facility features a diesel-truck repair lab, an auto-collision refinishing lab, two auto-repair labs complete with a shared parts department, four classrooms, a transportation welding shop and a modern high-bay demonstration lab for instructional and corporate-partner use. It was designed to allow instructors the freedom and flexibility to quickly transition from traditional classroom learning to demonstrations in connected lab space.
The 63,000-square-foot building, which students began using in August 2017, has the ability to serve 96 auto-tech students, 96 diesel-truck repair students and 32 collision and refinishing students annually.
Multiple commercial divisions of H.J. Martin and Son took part in this inventive project.
The company's Walls & Ceilings division began with exterior cold-formed steel framing, then installed rigid foam insulation and z-furring. It then moved inside to start interior framing on a very aggressive schedule to allow other mechanical contractors to commence roughing-in their scopes of work.
With top-notch attention to detail, the finished product of Walls & Ceilings blended a mix of industrial finishes: exposed structural steel, drywall, Fry Reglet, polished concrete and tall aluminum storefronts.
Walls & Ceilings also installed Revealed Edge ceiling tile by Genesis™ in a standard grid throughout the building in multi-phased work. Its skilled efforts were highlighted by a ceiling cloud with specialty perimeter trim in the lobby.
The Glass & Glazing division of H.J. Martin and Son utilized three installers over a three-month period to complete its scope of work. It handled storefront and curtainwall framing, along with the installation of Frameworks sliding doors (a barndoor-like product) while working around structural-steel columns. Glass & Glazing also installed 20 clear-story windows, designed to increase interior daylight.
The Commercial Flooring division of H.J. Martin and Son installed a variety of flooring products within the NWTC Universal Driving Facility. These included carpet tile, luxury vinyl tile (LVT) and vinyl base.
Complementing the installation of traditional commercial flooring products was the use of concrete polishing within the facility. Offering superior durability and reduced long-term maintenance costs, polished concrete has become a popular flooring choice with recent advances in polishing equipment and techniques that allow grinding to a high-gloss finish that never needs waxes or coatings.
H.J. Martin and Son completed 1,555 square feet of polished concrete, using the PROSOCO Consolidek polishing system, in the main room and the corridors of the NWTC Universal Driving Facility. The client initially specified a "burnished" finish, but switched to the more attractive "ground and polished" finish at the suggestion of company experts.
---
Navigate Featured Projects
Connect With A Specialist