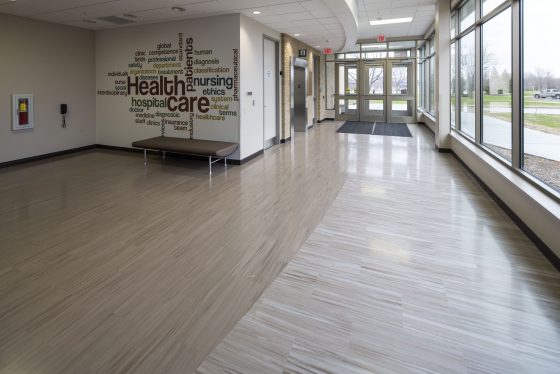 Case Study
Fox Valley Technical College Health Simulation and Technology Center
Project Divisions: Flooring & Ceramic Tile, Glass & Glazing, Walls & Ceilings
Location: Appleton, Wis.
Completion Date: August, 2013
Project Description:
Fox Valley Technical College (FVTC), located in Northeast Wisconsin, was experiencing a 30-percent increase in its enrollment. Those seeking healthcare training, including existing professionals and students entering the field, were in need of a modern medical environment where real-life patient scenarios could be replicated, using the latest, technologically advanced equipment.
To help meet the rising demand, Fox Valley Tech began construction of a new, 66,000-square-foot Health Simulation and Technology Center (HSTC) following passage of a referendum in April 2012. It was situated at the prominent entrance to campus.
A three-story structure, the ground floor is designed as a virtual hospital, with an 8-bed ER and hospital setting that gives students realistic training scenarios, utilizing human-patient simulators, and replicate clinic experience. An ambulance simulator also is available to train on.
The second floor is centered around training students who plan employment in a clinic or laboratory setting as phlebotomists, medical assistants and health-information technicians. It houses a phlebotomy lab and a six-room outpatient clinic.
The top floor is a place where adaptive home strategies are taught to students planning careers in rehabilitative therapy and home health care. Mock home settings of a kitchen, bathroom, living room and bedroom are among the real-life training labs available.
Three divisions of H.J. Martin and Son – Walls & Ceilings, Glass & Glazing and Commercial Flooring – participated in this unique project which bridged the educational and healthcare industries.
Walls & Ceilings utilized a crew of 15-20 to complete its work on a fast track. H.J. Martin and Son framed three stories of exterior and interior walls, along with handling steels studs, drywall, taping and finishing.
One distinctive aspect of this project for Walls & Ceilings was that the division framed for large number of glass walls. HSTC was designed to maximize views and daylighting, allowing students and staff to have visual access to surroundings.
The company's Glass & Glazing followed closely behind to handle its scope of work. Along with the glass walls three stories of exterior glass were put into place, ranging from curtainwall and windows to Kawneer storefront entrances.
Low-E glass was utilized in order to improve the building's solar and thermal performance.
Also among the interior-glass installed were doors for the school's mock intensive-care unit.
Commercial Flooring installed a variety of products in classrooms, medical areas and common spaces that were designed to hold up to heavy traffic and the unique demands of a virtual healthcare facility.
Extensive use of resilient flooring – from TEKNOFLOR™, Mannington and Armstrong – was the primary characteristic of this installation. It was complemented by flash-coving and welding work.
Handmade arcs and radius' also were a feature of this flooring installation.
Mohawk carpet tile was installed in classroom and common spaces, while ceramic tile was utilized in the restrooms.
---
Navigate Featured Projects
Connect With A Specialist