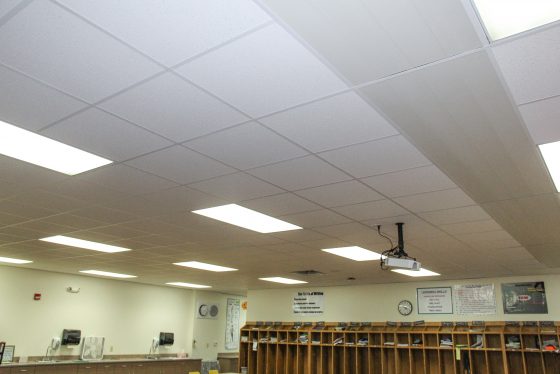 Case Study
Luxemburg-Casco Intermediate School
Project Divisions: Walls & Ceilings
Location: Luxemburg, Wis.
Completion Date: August, 2018
Project Description:
The Luxemburg-Casco School District serves nearly 2,000 Northeast Wisconsin students annually through four schools: primary (4K-2), intermediate (3-6), middle (7-8) and high school (9-12). Located between Green Bay, Door County and Lake Michigan, this rural educational community has been in existence since the early 1900s.
Opened in 1976, the Luxemburg-Casco Intermediate School was in need of new ceilings throughout its building, which also includes offices for the district's staff.
The unique aspect of this project for the Walls & Ceilings division of H.J. Martin and Son was that it was called upon to also handle the demolition at the outset of the project, which is uncommon. Company employees removed all ceilings – roughly 70,000 square feet – prior to the installation of new materials.
CertainTeed® Vantage 157 ceiling tile – 2'x2' tiles with a fissured texture and non-directional pattern – was the material installed throughout the L-C Intermediate School. This mineral-fiber ceiling product has a sag-resistant core and is manufactured using 36-45 percent recycled content.
The entirety of the installation was acoustic ceiling tile with the exception of the kitchen areas.
A five-person team from H.J. Martin and Son – one foreman and four other employees – spent 10 weeks from early June through mid-August of 2018 completing the demolition and subsequent, ceiling-tile replacement.
With the company handling many school projects during the summer months, all of which require completion prior to the start of the new academic year, managing the schedule was a challenge overcome to finish this work on time.
---
Navigate Featured Projects
Connect With A Specialist