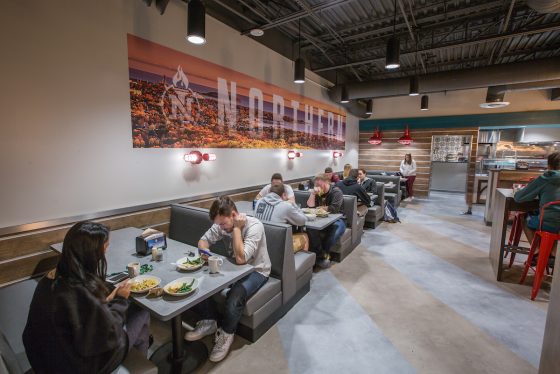 Case Study
Marketplace Renovation at Northern Michigan University
Project Divisions: Walls & Ceilings
Location: Marquette, Mich.
Completion Date: August, 2018
Project Description:
Northern Michigan University is a four-year, public university located in Marquette, Mich., of 7,900 undergraduate and graduate students.
The university sought improvement in the dining and convenience store experiences for its students. The $5.8-million project included relocation of the existing sundry space to a spot closer to new student residence halls, moving a dish room to the prior convenience store location to create additional serving and dining space, renovation of a lobby to provide private dining options, and the blending of the exterior façade of the existing dining facility with the new residence halls.
The Walls & Ceilings division of H.J. Martin and Son was tasked with creating walls for both the new rooms and the reconfigured spaces. In all, the company installed approximately 1,720 lineal feet of walls and 43,235 square feet of drywall.
A unique aspect of this project was its use of fiberglass-reinforced plastic (FRP) panels, a material that H.J. Martin and Son rarely is tasked with installation. This composite material has high mechanical strength at a fraction of the weight, possesses temperature-resistant properties and won't corrode or rot, improving performance and reducing costs in the long run.
The project also featured drywall finishes with modern characteristics throughout it.
A team of 20-25 carpenters from H.J. Martin and Son worked on this project over a six-month period from March to August of 2018, successfully completing it on time. The university had a hard deadline with liquidated damages in place to ensure that all work was completed by the late-summer return of its students for the 2018-19 academic year.
---
Navigate Featured Projects
Connect With A Specialist