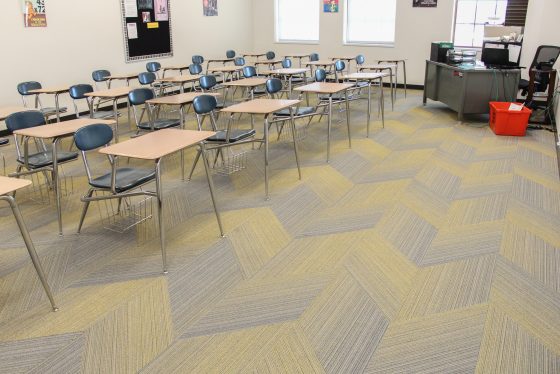 Case Study
Florence Middle/High School Addition and Remodel
Project Divisions: Flooring & Ceramic Tile
Location: Florence, Wis.
Completion Date: October, 2018
Project Description:
Florence is a rural Wisconsin town of less than 1,000 residents located in the far northeast corner of the state, just south of the border with the Upper Peninsula of Michigan.
Area voters passed a two-question, $14.5-million referendum in November 2016. The proposals called for $13.2 million to construct a major building addition and other improvements, along with $1.3 million to renovate existing classroom areas.
A central aspect of this project was the age of the buildings involved. It included the demolition of a 1950s-vintage academic wing and restoration of a historically significant 1930s-vintage masonry section of the school.
All existing academic spaces – 61,500 square feet – received extensive interior renovations. This included STEM shops and labs.
There also were two additions totaling 11,500 square feet: A two-story academic addition featuring four middle-school classrooms and two restrooms (9,300 SF), and a new kitchen (2,200 SF) to replace the kitchen which was located in the demolition zone.
Two major challenges were successfully met by the commercial flooring division of H.J. Martin and Son in completing work on this project. The first was related to the age of the renovated structure, nearly 90 years old. Floor preparation was a major issue, and work required extensive floor leveling to get them where they needed to be in order to accept new flooring.
The other challenge relates to the fact that this project was done in phases. Company flooring installers needed to ensure that everything lined up properly upon completion between the old and new sections of the project, in addition to the varying phases of work.
The unique aspect of this installation was the distinctive luxury vinyl tile (LVT) pattern and facet shape that carried through the majority of the facility.
Common areas outside of stairwells primarily utilized an LVT gray in color, with yellow and green accents, reflecting school colors. Flooring installers needed to ensure that the LVT fit together properly for a precise look.
A proper LVT fit was paramount in the building's corridors. Lines needed to be kept straight. Any variance would be very noticeable to occupants.
The patterned LVT installed in classrooms was gray with soothing earth tones. Similar precautions needed to be taken within those rooms.
Within the school's band room, the same LVT of gray with earth tones was installed. Here, it was particularly important for the lines to be straight as the space often is arranged in a non-square setup.
Products used on this project included carpet tile and luxury vinyl tile (LVT) from Patcraft, Waterhog walk-off carpet tile from RGH & Associates, ceramic tile from Daltile and Crossville, broadloom carpet and LVT from Shaw Industries, sports flooring from SPEC Athletic, rubber flooring and stair treads from nora® Systems and metals from Schluter® Systems.
Eight flooring installers from H.J. Martin and Son worked on this project over a six-month period in 2018.
Additional obstacles successfully overcome included the project schedule itself, material lead times and changes in scope. Close work with the general contractor helped to ensure that the site was ready when floor installation needed to take place.
Technology was utilized to stay current in real time on schedules and changes.
---
Navigate Featured Projects
Connect With A Specialist