ASPIRO continues to enjoy pontoon provided by H.J. Martin

Posted on July 22, 2015 by H.J. Martin and Son
Another summer of fun and sun on the Fox River is taking place for the consumers of ASPIRO, thanks to a 2004 gift from H.J. Martin and Son and its CEO, Edward Martin. ASPIRO serves children and adults with disabilities through center and community-based programs and services.
Starting this past June 17, ASPIRO began its 12th year of using a Starcraft Marine Holiday Classic 240 pontoon as part of its recreational activities. Anywhere from 10-20 ASPIRO consumers are able to enjoy a relaxing boat ride each day, including those with ambulatory issues. Pontoon outings are held several days per week from June through September.
"This is the perfect boat for our organization," says Joe Stocks, assistant recreation manager at ASPIRO. "We talk about this all of the time – riding on a pontoon is an opportunity that our consumers otherwise would not get. It is something that many of them have never experienced before."
ASPIRO, which has been part of the Brown County community since 1957, estimates that of the 250 consumers at its Dousman Street location in Green Bay, roughly 75-80 percent will take part in at least one of the 30-plus pontoon boat outings held each summer.
Click on any photo from the first ASPIRO pontoon outing of 2015 to enlarge it.
The move to purchase a new pontoon was put into motion by Martin after the H.J. Martin CEO learned that it was the dream of ASPIRO to have a boat for recreational activities. Fulfillment of the dream continues more than a decade later.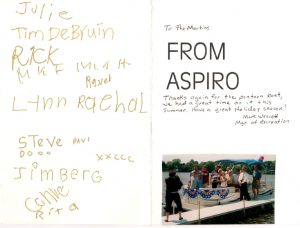 ASPIRO holds some all-day boat outings, where the organization brings a cooler full of food and beverages for a midday picnic, and once each August the pontoon is trailered and driven 43 miles to Whispering Pines Resort in Shawano, Wis. There, ASPIRO consumers utilize the boat on Shawano Lake for activities which also include fishing.
More can be learned about the efforts of H.J. Martin and Son in the community HERE.
Tags: ASPIRO, disabilities, Edward Martin, H.J. Martin and Son, Joe Stocks, pontoon, recreational activities, Shawano Lake, Starcraft Marine Holiday Classic 240