9/11 hero thanks H.J. Martin for Building for Bravest support

Posted on August 5, 2015 by H.J. Martin and Son
H.J. Martin and Son was honored to welcome the 'Building for the Bravest Shadowbox Tour' to its showrooms in Neenah and Green Bay on Aug. 4. At each location, retired Fire Department of New York (FDNY) lieutenant Ray Thomas thanked the company for its support of the program which builds custom-designed smart homes for catastrophically injured American service members, along with presenting it with a shadowbox containing a piece of 9/11 steel from Ground Zero.
Firefighters from the Town of Menasha and Neenah-Menasha departments were part of the morning session in Neenah. After Thomas shared his 9/11 experiences with a group of roughly 50 people, he bestowed the shadowbox to Karen Siegrist, assistant manager of the H.J. Martin showroom in Neenah.
Thomas welcomed to the company's Green Bay showroom by H.J. Martin CEO Edward Martin and Green Bay Mayor Jim Schmitt in the afternoon. Following a similar shadowbox presentation, Thomas visited and posed for photos with members of the Green Bay Metro Fire Department and the H.J. Martin designers who were on hand.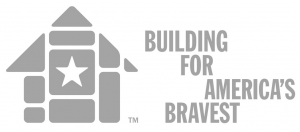 Carpet One Floor & Home, along with Mohawk, is providing flooring materials and installation for 46 Smart homes being built by the Building for America's Bravest program from 2014-16 – a contribution totaling $2.3 million. The Stephen Siller Tunnel to Towers Foundation is traveling an individual from the FDNY to every Carpet One location in the continental United States from 2014-16 to thank Carpet One and its member stores for their commitment to the Building for the Bravest program.
To learn more about the Building for America's Bravest program or to contribute to its efforts, visit www.ourbravest.org.
More on the event itself can be found through media coverage in Appleton (http://www.postcrescent.com/story/news/local/2015/08/04/firefighter-shares-experience/31130811/) and in Green Bay (http://www.greenbaypressgazette.com/story/money/2015/08/04/fdny-retiree-hj-martin-green-bay/31131499/).
Tags: 9/11, Building for America's Bravest, Building for the Bravest Shadowbox Tour, Carpet One Floor & Home, Edward Martin, FDNY, Fire Department of New York, Green Bay Mayor Jim Schmitt, Green Bay Metro Fire Department, Ground Zero, Karen Siegrist, Mohawk, Neenah-Menasha Fire & Rescue, Ray Thomas, Stephen Siller Tunnel to Towers Foundation, Town of Menasha Fire Department