The Trend Forward 2015: Designers for Hope Home

Posted on August 16, 2015 by H.J. Martin and Son

Much is written about current trends in interior design, but rarely is there an opportunity to see so many trends incorporated and harmonizing so well in one structure as the 2015 showcase home for the Designers for Hope event. Even more rare it is to incorporate the work of 6 different interior designers in a single home while still managing to pull off a cohesive and sophisticated overall aesthetic. Recently, HJ Martin had the great honor of being involved in this local charitable event with 5 other Green Bay and Valley area interior designers. The Designers for Hope showcase is a bi-annual event requiring a trusting and fortunate home owner to open up their house for interior renovations and updates by participating designers. The designers donate their time in return for exposure to potential future clientele. Tickets are sold both for the main event and the invitation only Gala night which kicks it all off. The main event consists of the house being open to the general public who purchase tickets for the weekend allowing them to meet the designers and view the finished home highlighting the designers work.
Of course all the proceeds go to benefit a very worthy cause, House of Hope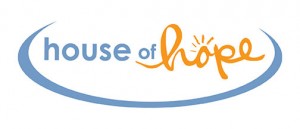 located in Green Bay. House of Hope provides shelter and guidance to young homeless mothers uplifting them back into society where they can be successful independent parents with the tools and confidence they are given by the House of Hope. H.J. Martin and Son was previously connected to House of Hope having been a sub contractor donating time and materials to the renovation of their facilities in 2011 and the relationship continues with involvement in the organization by H.J. Martin and Son employees as well as marketing events designed around partnering with customers to donate a portion of sale proceeds to local charitable organizations including but not limited to the House of Hope.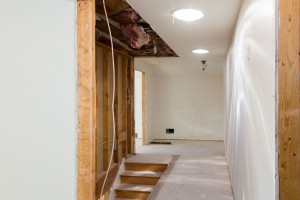 This being only the second Designers for Hope event on the books, there was not much precedent set in terms of the level of makeover the 2015 house would receive. But before the participating designers had selected their spaces, this particular home underwent a massive remodel which included finishing the lower level, relocating the kitchen, tearing out walls and ceilings, completely reworking the electrical and even adding a bathroom. H.J. Martin and Son was involved from the beginning straight through the end as the home owner was our own David Martin of H.J. Martin and Son. The designers stepped into spaces of their choosing that had the flooring and trim work already determined with the challenge to create a room that showcased their unique design talents but also connected their rooms to the rest of the home. After the remodel, the main floor possessed a wide open floor plan making the challenge to keep this home cohesive even more important to the home owner. Add to that the home owners request for casual yet classically masculine spaces and you have the makings for a potentially difficult design challenge. Yet somehow this incredibly talented group of designers worked independently to create a seamless vision to achieve all of this and more in perfect harmony.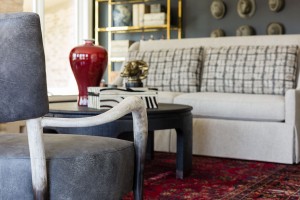 The first design trend you can see at work in the 2015 Designers for Hope home is "Gold is in." The Designs of the Interior team lead by Stephanie Bruss chose the sunroom over looking the river front, boasting dark exotic wood floors, creamy white custom trim and a split face travertine fireplace. They opted for charcoal gray walls to create contrast and make the most of the sparse wall area amongst 2 window walls. They layered a richly colored hand woven rug with a cozy yet tailored sofa in cream linen. Three dimensional art hung in a rhythmic pattern complemented red accents and simulated animal tusk details on a sculptural side chair. The gold accents throughout the room seem to frame it in luxury, add depth and finish it with class.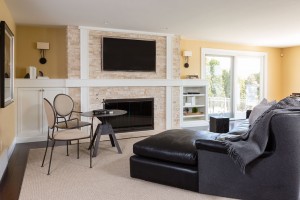 The next design trend illustrated in the home is "Texture is in." Sharon Waerzeggers of August Haven artfully designed main living spaces including the great room and dining spaces where this trend can be clearly seen. The lush boxy weave of the wool area rug softens the great room and is anchored by the split face travertine stone wrapped fireplace. Masculine flannel pillows accent the leather sectional while a wire brushed trestle table in the dining room is offset by two high back wing chairs upholstered in a stunning nubby pin dot fabric. Metal accents reinforcing the masculine feel show up in the foosball table, an industrial side table in the great room and in gorgeous wall sconces juxtaposed to the rich wood flooring.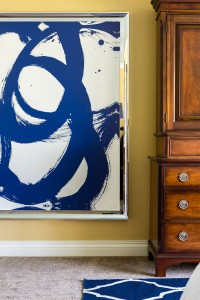 The trend toward an affinity for certain colors in home interiors is a recurring one, though exactly what that color is does tend to evolve with fashion as each year comes and goes. "Blue is in" is certainly a truthful design trend in the tranquil and fresh master bedroom beautifully designed by the Ethan Allen team. Bold pops of cobalt blue in classically styled lamp shades, a large trellis pattern area rug to anchor the room, soft toile pillows and duvet cover, and oversized graphic artwork add interest to the gold and cream base color pallet. The soft blue ceiling set off by wide white crown molding reinforces an airy feel and delicately supports the more vibrant cobalt in the room.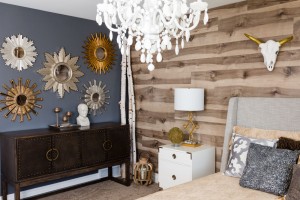 The unexpected design trend of "Mixing Metallics" is seen in the stylish and edgy upper guest bedroom designed by Paige Knoke. Paige used an eclectic combination of brass, bronze and silver metallic framed sunburst mirrors as a modern wall statement. She reiterated the cool and warm pallet with a textural combination of throw pillows in golds and grays, in the driftwood look of a reclaimed wood headboard wall, and with the rich beige patterned drapes that contrast to the dark blue gray walls. Paige brought her big city Chicago design flair to this room by layering accessories and creating multiple visually interesting areas throughout the space.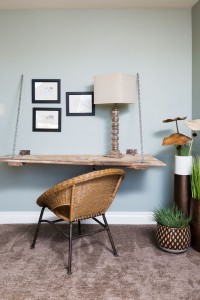 "Make it Sustainable" is a design trend seen in the upper sitting room designed by Jackie Nugent of In Design. Jackie's design goal was to take a space traditionally used as a bedroom and open our minds to alternative ways of using that space incorporating her funky, casual design style. The trend for re-using and re-purposing old items to breath soul and add character into new spaces has become incredibly popular with today's designers. These found items can be strictly decorative applications such as the twine wrapping the drum tables in this room, or all about function like the rope used for drape hooks and the antique weathered door suspended from the wall by chains to create a writing desk.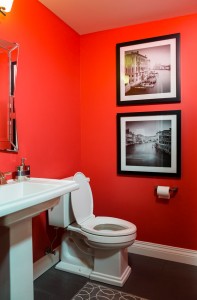 The trend for "Bold, vibrant color" was used by our H.J. Martin and Son designers in the casual back entry powder room and the sophisticated foyer powder room. The deep fiery coral color of the back powder room infuses energy into the informal entry area. The black and white city scape art, sleek and simple gray linen look floor tile, crisp white trim and funky shaped beveled mirror create a youthful yet classic room. In the foyer powder room, a jewel box affect was achieved with a rich watery blue wall color, metallic octagon shaped mirror, delicate crystal hardware on the acquired looking vanity, organically shaped vessel sink, curvilinear faucet and luminescent mini chandelier pendants.
Putting all these design trends together in one structure resulted in a beautifully remodeled river front home designed for timeless entertaining. But more importantly, it is a testament to what can be achieved when these creative interior designers decided to pool their talents and collaborate with a community minded local business toward the common goal of raising money for a deserving charity. H.J. Martin and Son is grateful to the community for over 80 years and 4 generations of family owned business and will continue to show that gratitude by giving back to the community through opportunities like this.
Tags: August Haven, Design Trends, Designers for Hope, Designs of the Interior, Ethan Allen, Green Bay, House of Hope, In Design, Jackie Nugent, Paige Knoke, Sharon Waerzeggers, Stephanie Bruss