Our Stock Wall = Our Hidden Gem

Posted on March 23, 2021 by Lisa Hooyman
From the most ornate tile to carpet that can withstand even the liveliest household, we have products for everyone here at H.J. Martin and Son. Whether it's for a small DIY product or new home construction, chances are we have the product that will fit your needs. Even better, we likely have the perfect product in stock for you to take home asap!
Many times we have customers come in and say they need a product at a very specific price and on a very specific timeframe and we can definitely accommodate both with our in-stock materials. These are popular, high-quality products we can sell and turn over to you quickly. We have them all displayed by price point right in our showrooms in Neenah and Green Bay.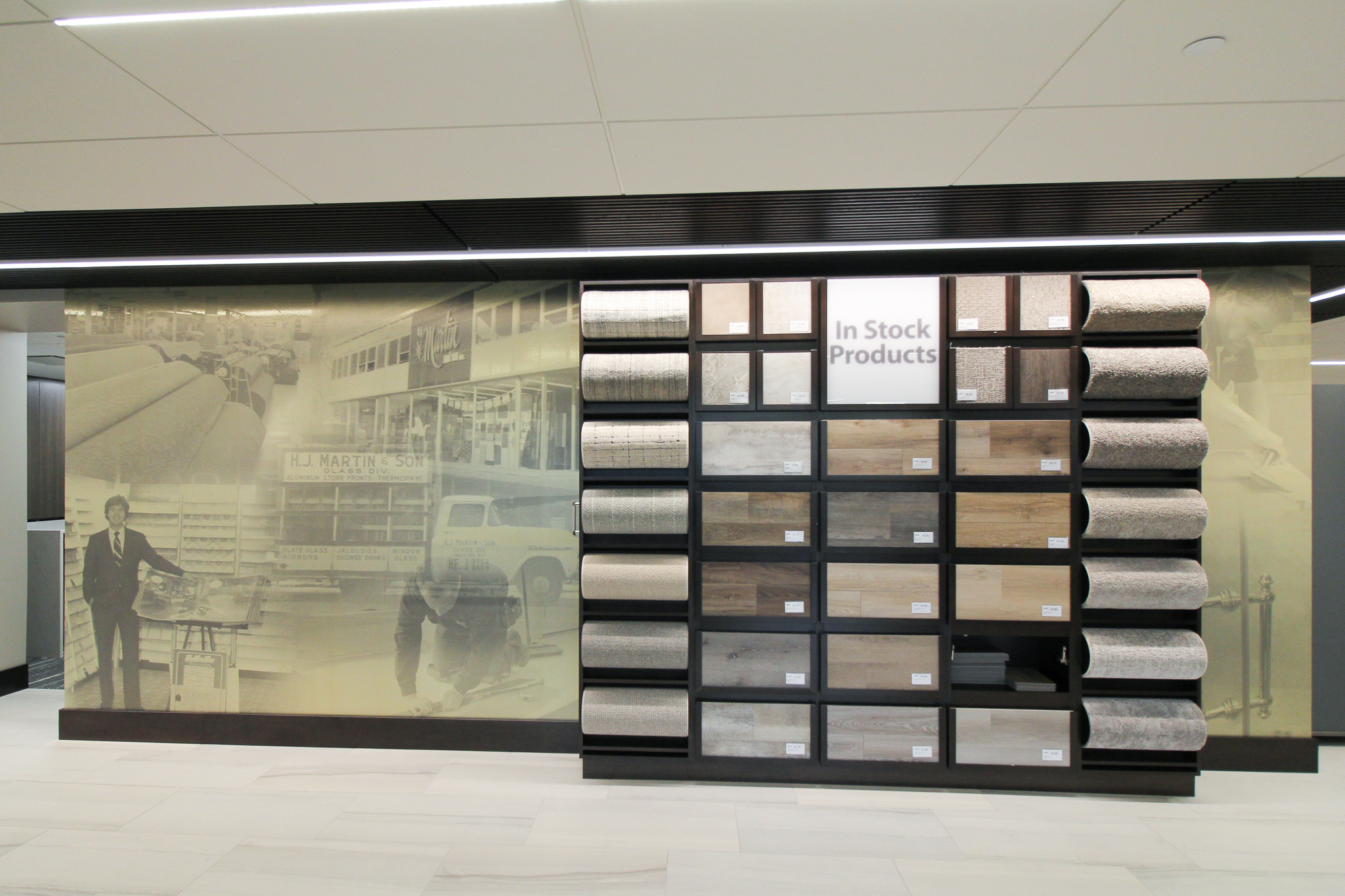 Here are just a few of the benefits of our in-stock walls:
Its products are great for a quick remodel. Since the products are all readily available in our warehouse, you can take it home the day you buy it, in most cases. If you're looking for us to install the product, it's sometimes a quicker turnaround for installation.
Because we order in bulk for our stock wall, we're able to give you a great price point on some of the best products.
The average price point for stock items is around $2-$3 per square foot! And our inventory is constantly changing.
It features a wide variety of colors, patterns, and styles to fit everyone's needs.
Designers personally pick some of their favorite selections to pull from the floor samples to bring into our stock wall.
We offer different types of stock flooring including luxury vinyl plank, luxury vinyl tile, and carpet.
For carpet, we carry quite a few different options for styles and fibers. We offer nylon, polyester, wool, and triexta, all of which come in different colors and patterns.
The luxury vinyl tile and planks have a really nice variety, too, including stone-look and wood-look.
We are so proud to be able to showcase products for our customers on our in-stock wall. The products change on a regular basis, so stop into one of our showrooms to see for yourself. And as always, our designers are here to help…and their services are complimentary. There's no reason not to take a quick look!
We pride ourselves on being able to cater to each and every one of our customers' unique needs. Set up a free design consultation with one of our interior designers here or call to make an appointment at 920-494-3461.
Tags: Carpet, Flooring, Fox Valley Showroom, Green Bay showroom, H.J. Martin and Son, In stock, luxury vinyl, Neenah showroom, Stock product, Stock wall