PRESS RELEASE: H.J. Martin makes prestigious ENR Top 600 Specialty Contractors list

Posted on October 23, 2014 by H.J. Martin and Son
Firm tabbed as 165th largest overall, 14th in Glazing and Curtain Wall
Green Bay, Wis. – H.J. Martin and Son has made the prestigious ENR Top 600 Specialty Contractors list for the first time in company history, ranking as the 165th largest specialty contractor in the United States.  The 2014 compilation was released today in the October 20/27 issue of Engineering News-Record.
H.J. Martin also made its initial appearance in the ENR list of Top 20 firms in Glazing and Curtain Wall, ranking 14th nationally (and first in Wisconsin).  One of H.J. Martin's six commercial divisions, Glass & Glazing has been headed by vice president Kevin LaPoint since 2002.
"It is an honor to receive this recognition from ENR, a leader in coverage of the construction industry," says David Martin, fourth generation at H.J. Martin.  "Credit for this accomplishment goes to all of our hard-working installers, who help us to build a platform where we are confident in their skills to attack new projects and expand our business.  In addition, we've always believed in the strength and sophistication of our Glass & Glazing division, and to be ranked as the largest glass operation in Wisconsin is a tribute to Kevin LaPoint and the entire division."
Among specialty contractors based in Wisconsin, H.J. Martin ranked fifth.  The only larger firms in the state are Safway Group of Waukesha (9), Faith Technologies of Menasha (39), J.F. Ahern Co. of Fond du Lac (77) and Azco Inc. of Menasha (121).
H.J. Martin was specifically mentioned by ENR for its extensive work in recent Lambeau Field redevelopment projects.  The magazine also lauded the company for its use of innovative technologies, including an app its installers use to view electronic blueprints, complete daily progress reports and execute change orders, among other items.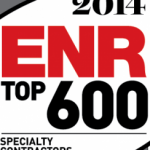 ENR ranked companies according to construction revenue in 2013 in ($) millions from specialty contracting in a prime or subcontracting capacity.
Tags: David Martin, Engineering News-Record, ENR Top 20 in Glazing and Curtain Wall, ENR Top 600 Specialty Contractors, Kevin LaPoint, Lambeau Field redevelopment projects