New GreenStone Farm Credit Services branch among H.J. Martin's local work portfolio

Posted on May 22, 2013 by H.J. Martin and Son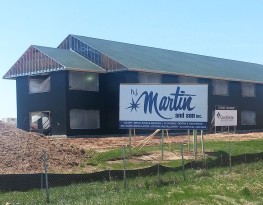 While H.J. Martin and Son does work in all 50 states, the company enjoys the projects it is able to undertake in Northeast Wisconsin.
One such project is the new location of GreenStone Farm Credit Services, currently under construction along Highway 41 in Little Chute, Wis.  There are 21,000-square feet within the two-story office building.
Four different divisions of H.J. Martin are working on the GreenStone project: Commercial Flooring and Ceilings, Glass & Glazing, Drywall, and Commercial Doors & Hardware.
"With our long-standing roots in Green Bay, we take great pride in work that allows us to contribute to regional development," says H.J. Martin and Son CEO Edward Martin.  "We are pleased to be so heavily involved in the new GreenStone location."
The Wieland-Davco Corporation, headquartered in Lansing, Mich., is overseeing the project as general contractor.
"We are very appreciative to Wieland-Davco and GreenStone Farm Credit Services for their trust in us," Martin adds.
GreenStone Farm Credit Services is Northeast Wisconsin's largest agricultural lender, with six branches in the region prior to the opening of the Little Chute location.  Based in East Lansing, Mich., and specializing in rural lending, GreenStone maintains 37 branches in Wisconsin and Michigan.
Tags: ceilings, commercial doors and hardware, commercial flooring, Construction, Drywall, Glass and Glazing, GreenStone Farm Credit Services, H.J. Martin and Son, Little Chute, Wisconsin