My First Carpet One Conference

Posted on January 26, 2015 by H.J. Martin and Son
My first time at the Carpet One convention was nothing short of eye opening and extremely beneficial. Not only was this convention about new and upcoming products, it was an educational excursion. Carpet One is a large organization of businesses that all dedicate themselves to flooring and upcoming trends. I was able to meet people from around the globe. Carpet One extends its arms all the way to Canada as well as Australia. It was extremely powerful learning from generations of business owners talking about how much they appreciate the Carpet One organization and how Carpet One has helped them in the success of their store.
Now to the fun part…
This convention was not only about new product, it was about learning. We had the opportunity to sign up for several learning labs. These learning labs were a collection of sessions that broke down different aspects of what we do. The first lab we attended was called "Image-Driven Social Media." This session went in-depth with all things social media. To me, social media is a way of life but to others that were in the class, this was a foreign idea. Social media has become a very large tool in design. Pinterest, Houzz and Instagram were the three main topics discussed. These social media outlets can be used to upload photos of your showroom as well as just reaching out with design trends and new exciting products. Design is extremely image-driven and photos can be so inspiring.
Another learning lab that we attended was called "Color Trends 2015." This was an amazing lab. The color of this year is Marsala. I think the color is so rich and warm. Design color trends spawn from fashion. New York's fashion week plays a huge role in the trends of furniture and finishes for the home. What you see the models wearing on the runway during fashion week, you most likely will see at Target the next year. It was interesting to learn about the new color trend for 2015 and I can only expect great things to be coming into the flooring market within the next year. Whoop Whoop!
Going to this convention was a great experience. Design is this powerful movement and helping customers create their dream homes with great product is really a wonderful thing to be part of. I had the pleasure of going with two of my fellow designers from the H.J. Martin and Son team and we most certainly had a blast. We are all excited to have some great new products coming to our showroom very soon. We got a sneak peak at the convention, and trust me you're going to love them.
Oh and we took a "selfie" before class…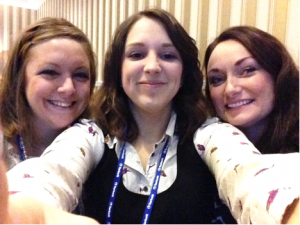 H.J. Martin and Son designers: Lisa Herrmann, Stephanie Roskam and Allison Weiner.
Tags: Appleton, Carpet One, color trends, Conference, Designers, Education, Flooring, Green Bay, H.J. Martin and Son, learning labs, Neenah, new products, Showroom