Hardwood Flooring…Lust or Love?
Posted on December 31, 2014 by H.J. Martin and Son
Ahhh…the authentic, gorgeously rich look and feel of hardwood floors. There is something essentially strong and sophisticated yet earthy and even sexy and decadent about it. Hardwood flooring brings nature inside our dwelling spaces giving us a solid, warm home base for our family, for our lives, for our crazy busy lives and our insanely active families. So is hardwood flooring the product that's really 'right' for your home? You know you love the way it looks, the tingly way it makes you feel, the 'idea' of it…but is it actually something smart to put on your floors? Should you listen to your heart, or your head?
Hardwood has been used as a flooring material for centuries all over the world and throughout history. It is, to this day, revered as an almost spiritual living breathing part of a home. The natural beauty and soul it adds is unparalleled to any other flooring material. It imparts value, style and class to any space. However, wood…is…wood. Wood can be burnt, scratched, gauged, scraped, water damaged, nicked, chipped and discolored. Even with the amazing UV cured oil finishes, aluminum oxide and urethane finishes applied to these floors in factories today, there is still no such thing as a wood floor that will not scratch, dent and ding.
While wood species is certainly a big factor in determining hardness or density and dimensional stability, these characteristics should not be exaggerated or over-promised. Even the most dense bamboo floor with a top-of-the line urethane finish will undoubtedly scratch from misuse. And let's not forget about the two archenemies…wood and water. Thinking of putting that gorgeous wide plank hickory wood floor in your back entry and kitchen? Then you'd better be prepared to cover it with thirsty area rugs to soak up the standing water tracked in through the entry and dripped and splattered in the kitchen.
You might feel a little sick right now, thinking your floor lust has been completely misguided. That campaign you have been waging against your husband's feeble attempts to keep carpet in your bedrooms and great room…sabotaged. Not necessarily. What if there was a way to get the look and feel of wood without the durability and water concerns? Gasp!? "But it can't be" you say, "There cannot be anything more sultry and lovely than real hardwood flooring?!" We are fortunate to live in an age where materials made to mimic nature have gotten so good at their charade that they can fool even the most savvy and discerning clients.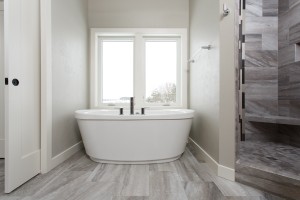 Hands down, if you are seeking the toughest, most indestructible floor you can put in your home, porcelain tile is the way to go. We now have gorgeous wood-look porcelain plank tiles available to us. Crazy, when I consider that up until about 7 years ago I personally found most of them hideous. But today, the graphics, textures and variation of color in these materials are so realistic and well developed by manufacturers that in many cases it is nearly impossible to tell them from real hardwood flooring. Water? No problem. High traffic? No problem.  Is it hard? Yes. Use area rugs to soften the look, improve acoustics and give you warmth and cushion where you need it. Is it cold? It can be, since porcelain tile is a great conductor, it will conduct not only cold but also warmth. In-floor heat options are abound and a great way to take the edge off tile floors while gently heating your home.
These stunning wood plank tiles can be installed in designer patterns like diagonal herringbone, ultra modern stacked or traditional random offset.  They combine beautifully with other tile looks like fabric visuals or stone looks and beg to be bedazzled by sparkly glass mosaics.  Many are available in multiple plank widths and have distressed, time worn styling.  You truly need to see these products and walk on them to have full appreciation and be hood winked by their beauty.
Can't get past the hardness of tile, or your floor simply cannot support the added weight of a tile floor…or maybe your budget can't support it?  Luxury vinyl plank is a resilient material installed in individual planks therefore allowing the same design flexibility of plank look tiles. They can be floating construction or glued down with pressure sensitive adhesive. The quality and durability of these products can vary substantially depending on exact product selection. Be sure to understand your durability requirements and ask for overall thickness and how many mils the wear layer is to ensure you are getting the right product for your application.
While fewer options currently exist in this segment of flooring, it is the fastest growing flooring product area by leaps and bounds. Visually stunning, warm, resilient, friendly to water, easy to install and repair and available in highly durable commercially rated styles, luxury vinyl plank flooring is the right answer for many homes. Don't discount that its sister product, luxury vinyl tile, can be installed adjacent the plank material in a flush application and even grouted!
"No can-do" you say. "My heart belongs to the real thing, 100% authentic hardwood flooring is the only floor for me." You've looked, you've taken samples home, walked on these alternative materials but you are still hopelessly devoted to real hardwood flooring. Well, the heart wants what the heart wants. Consider carefully selecting the rooms to install wood flooring in. Areas that are used infrequently like a formal front foyer or rarely exposed to moisture and see stocking foot traffic most of the time like the master bedroom and hall are perfect for hardwood flooring.  If you select a solid 3/4″ hardwood flooring it will flush out beautifully with tile over a 1/2″ plywood subfloor for those wet, high traffic areas like the kitchen, laundry room and back entry.
Selecting a time worn, distressed looking hardwood floor is another way to allow the wood floor to be a wood floor. The idea is that additional scratches, dents and dings will only enhance the unique character and texture it has already. Tinted lemon oil and stain sticks erase a multitude of sins and of course, refinishing is always an option with a solid 3/4″ or heavy primary layered engineered wood floor. With rustic modern interiors and reclaimed finishes finding immense popularity in residential design, distressed wood floors are a match made in heaven.
Many of these distressed or reclaimed looks are available in an engineered hardwood construction. No, I'm not talking about a laminate floor, which is actually a photograph of wood dipped in melamine and compressed with heat to a fiberboard body. Engineered wood flooring is real hardwood just multiple layers unlike solid hardwood flooring. The top layer is what we see and love, the other layers – sometimes as many as six – are a secondary wood and crisscrossed for dimensional stability. This added stability helps eliminate buckling and cupping associated with environmental humidity inconsistencies.
Engineered construction also makes floated or glued down installation possible in areas where nailing a floor down is not an option, such as over concrete or in-floor heat.  Varying qualities of engineered wood floors do exist, mostly dependent on just how heavy that primary wood layer actually is. Of course the best quality engineered hardwood floors have a top layer that goes all the way or nearly all the way to the tongue, allowing it to be sanded and refinished to the same extent a solid 3/4″ floor could be…you can't go past the tongue or the floor will fall apart!  Outside of that variable, it performs just like a solid 3/4″ wood floor.  The factory finishes are the same; the look and feel is exactly the same…cozy, acquired and innately homey.
Whatever option you select for your home, it's sure to add character and divine interior charisma to your spaces. With the help of the professional sales and design team at H.J. Martin and Son, you will find the right answer for your crazy, busy, active, chaotic, wonderful lifestyle and home…one that makes your heart go "tha-thump…tha-thump."
Tags: Appleton, Area Rugs, Distressed Hardwood, Engineered Hardwood, Flooring, Green Bay, H.J. Martin and Son, hardwood, Luxury Vinyl Plank, Neenah, Porcelain Plank, Residential