Modern Farmhouse Pallet Wall DIY

Posted on May 25, 2017 by Lisa Hooyman
While we were swooning over the latest styles that Joanna Gaines is sharing, we were happy to learn one of our own designers has been taking on the modern farmhouse look and feel into her own home.
Fox Valley designer Lisa Hooyman recently created and styled her own pallet wall in her living room, and she was kind enough to completely break down her method.
Lisa first brought home a bunch of pallets, pulled them apart, cut the boards to varying lengths and sanded for smoothness.
Our designers are really creative and very resourceful, and Lisa proved it by creating her own stains for the wood. She was looking for a weathered look, as her pallets were brand new and very clean-looking.
Her main method was to soak steel wool in vinegar for about four days.
"The wool reacts with the vinegar, and it changes the wood's color when brushed on. Basically, it instantly weathered the material," Lisa explained.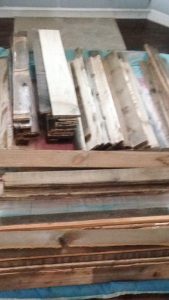 She made sure to purchase different pallets with different kinds of wood, that way the vinegar and wool mixture would react uniquely with each wood.
Mixtures used for the pallet wall:
Wool + Vinegar

Wool + Apple Cider Vinegar

Tea + Water

Coffee + Water
The results are stunning, as the finished wall has a beautiful array and range of colors from silvery gray to blackish brown.
Lisa decided against purchasing a stain, because she was looking for a wide variety of colors, and determined the homemade stains would be the best option for her end goal.
After the stained wood dried, Lisa had to organize the pieces by size, so she could make the layers of the wall even. Additionally, she tried to mix and match colors to avoid having too many of the same shade in the same place.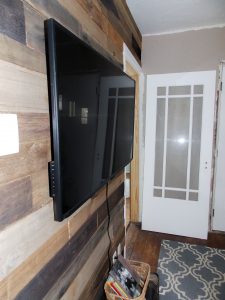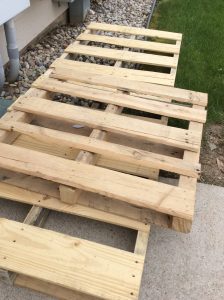 The wall she was working with is painted plaster, and using liquid nails and a nail gun, she fashioned her accent wall.
As she is working on bringing her farmhouse-style vision throughout her home, she was able to reconfigure two arched doorways on the wall to be squared off. Very soon, Lisa plans to install a 1900-era door to her master bedroom from the farmhouse she was raised in.
With a little help here and there, the new wall was put together in the time frame of about five days, but stretched over a longer period.
"I found the idea on Pinterest and it fits my dream house style," Lisa said. "Plus the modern farmhouse style is really popular right now."
Pallet Wall Process Breakdown:
Obtain pallet wood, purchase enough based on size of wall/area
Break down pallets
Cut into varying sizes
Lightly sand
Create stains
Stain pieces of wood
Dry wood
Organize by size and color pallet
Prep wall for mounting wood
Nail and glue wood to wall
Enjoy the new look of your home!
We can help you mimic Lisa's project with products right here in our showroom or stop in for help on your next DIY project! Contact us today at www.hjmartin.com.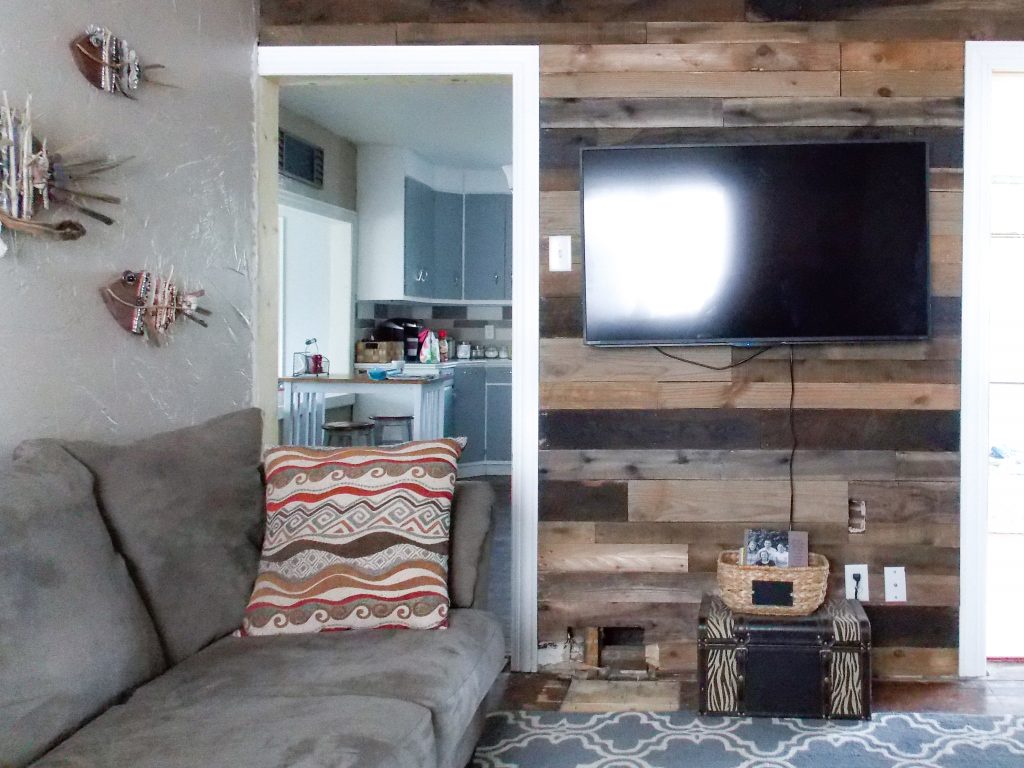 Tags: DIY, farmhouse design, H.J. Martin and Son, Interior Design, modern farmhouse, modern farmhouse remodel, natural stains, pallet wall, pallet wall diy