How to Pick the Perfect Luxury Vinyl for Your Home
Posted on May 19, 2021 by Rachel Retzlaff
Luxury vinyl plank and tile are some of the most popular flooring materials on the market due to their durability, versatility, and affordability. Certain brands are now offering water-resistant lines and products that are so easy to install, DIY-ers are rejoicing.
With so many options of luxury vinyl on the market due to its mass appeal, its become an overwhelming task for our customers to decide on what to put into their homes. We are here to help you solve that problem by breaking down some of our most popular styles of luxury vinyl.
First, knowing the difference between luxury vinyl plank and luxury vinyl tile is essential to making your decision. Plank is going to mimic wood in look and size, meaning they will be longer and thinner in width. The tile takes on a stone look and sized at 12×24-inches, 18×18-inches, or 16×16-inches. Both styles offer a variety of colors, prints, and looks.
Now, let's talk about some different looks for you to choose from between luxury vinyl plank and tile.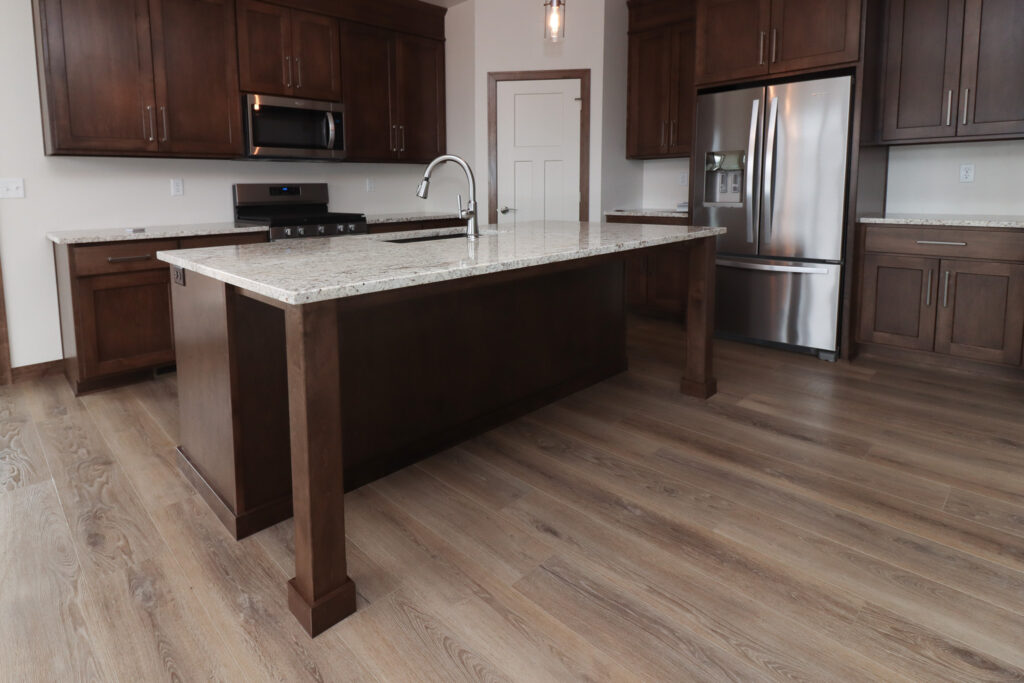 Plank Styles (LVP)
When considering luxury vinyl plank, some of the most popular styles are vinyl wood, embossed in register, and micro-bevel.
Vinyl wood is a style that looks like a clean and natural oak. Simple earth tones dominate this style in contrast to a distressed barn wood look.
Embossed in register is a style that offers the feel of wood, as the grain of the vinyl runs a little deeper into the plank. This does not affect the quality of the luxury vinyl, but it gives off a feeling of natural hardwood.
Microbevel is a form of plank that includes a small bevel between each plank. In contrast to a painted bevel, which looks more like a grout line, you can see the individual planks and it has a more realistic look. (And no, there are no issues with water getting between planks, as luxury vinyl is water-resistant!)
Tile Styles (LVT)
Tile styles offer homeowners beautiful, high-end effects in their spaces including marble, concrete, and natural stone. Plus, with tile, you can install it either grouted or ungrouted looks.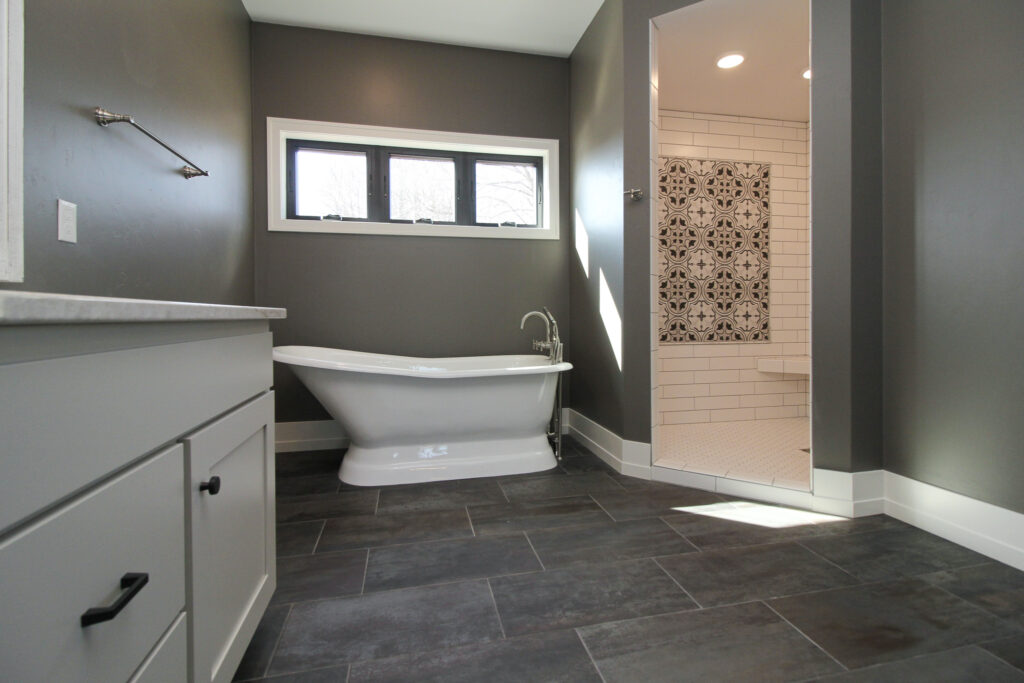 Marble is the tried and true luxury vinyl tile style. It is a classic and natural style that can fit into almost any aesthetic.
Concrete is a newer style of LVT that has been extremely popular. Concrete offers a more upscale-industrial feel. It can be used in almost any space, as it offers a blank slate for flooring, allowing homeowners to spice up the rest of the room.
Natural stone LVT is a style that will suit almost any living space, as there are patterns that mimic slate, brick, travertine, and any kind of rock imaginable.
*Tip: Be sure to consider the style of installation like herringbone, vertical, horizontal, etc. while designing your space.
Installation Types
While picking out the aesthetic of your luxury vinyl, you will also need to consider if you prefer glue down or floating luxury vinyl. Both install methods are product-dependent.
Glue down luxury vinyl is the type of product that requires adhesive between the subfloor and the luxury vinyl to be installed. This will either be a hard set adhesive that spreads on the subfloor or pressure-sensitive adhesive, where the product itself has adhesive on it and bonds to the subfloor. Glue-down luxury vinyl is very popular, especially in new homes. It can be installed under cabinets and will not require transitions from room to room, unless changing materials.
Floating encompasses two forms of installation, loose lay and click flooring, depending on the product. Loose lay vinyl flooring requires little to no adhesive, so once fully installed, the tiles stay in place. Click vinyl products click and lock into position by snapping planks together on their edges.
*Tip: Be sure to talk to your designer about the proper subflooring to use depending on the luxury vinyl plank or tile product you plan to buy.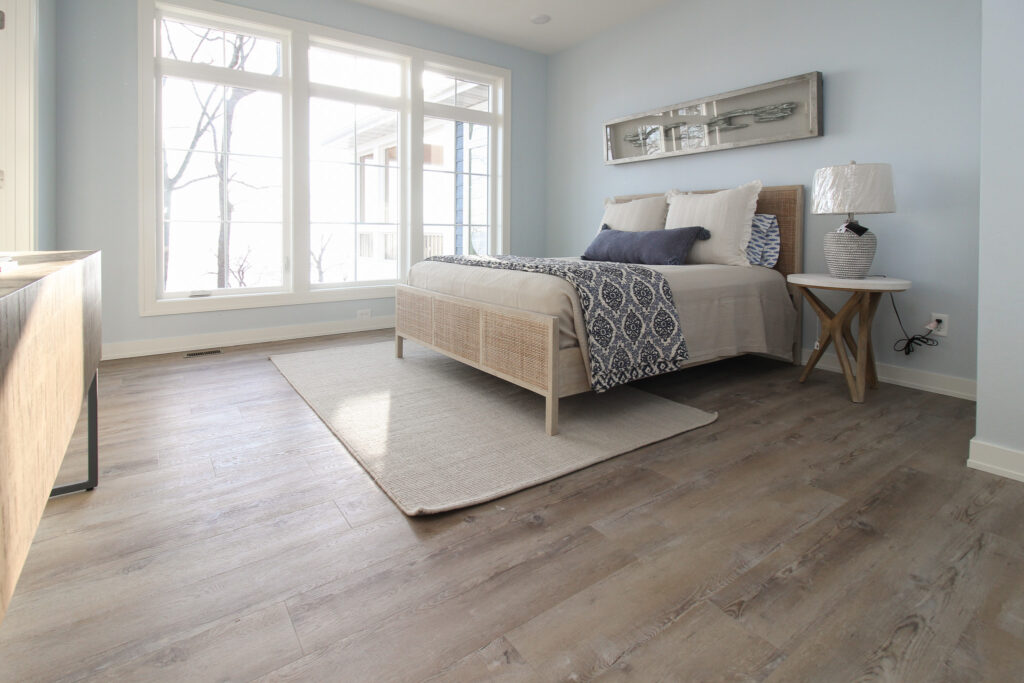 Installation in Your Home
Luxury vinyl offers so many benefits to any home, new or remodeled, including durability, water resistance, ease of maintenance, and more. We at H.J. Martin and Son would love to show you our many different LVP and LVT products and help you determine exactly the right fit for your home.
For more information on purchasing luxury vinyl, visit our buying guide or see our Pinterest page for inspiration. If you'd like to make an appointment with one of our talented interior designers for a free design consultation, select the button below or give us a call at 920-494-3461 in Green Bay and 920-886-6668 for the Fox Valley.
Tags: H.J. Martin and Son, luxury vinyl, Luxury Vinyl Plank, Luxury Vinyl Tile, Rachel Retzlaff