How To Measure Your Space

Posted on March 22, 2021 by H.J. Martin and Son
* Need assistance from our skilled Measuring Team? Schedule a measure with us by calling 920-494-3461!
How Do I Measure?
Are you looking to install new flooring? Are you ready to purchase your new carpet or hardwood but just don't know how to measure your space?
H.J. Martin and Son has a whole measurement team, who will come to your home, FOR FREE, and measure your space professionally. However, if you want to have a hand in measuring the room you're working on, we can help by giving you some basic tips on how to measure your space.
Tools you'll need:
Tape Measure
Calculator
Notebook
Pencil
Simple Measurements
A simple way to get a rough measurement for a room is to determine the room's length and width with a measuring tape. Multiplying the length by the width will help to find your square footage.
Formula: Length (ft.) x Width (ft.) = Square Footage
Example: 10 ft. x 15 ft. = 150 square feet
We know that it is not always that simple, but it can be a great start to determining how much you may be spending on the flooring materials.
Detailed Measurements
In addition to measuring the length and width, you also have to keep track of nooks, crannies, islands, closets, and angles.
For example, if you have an L-shaped room, you will measure the length and width of the long section and multiply, to get that square footage. Then you will do the same to the short end. All you have to do is add up your two sections. (Don't forget to consider where space overlaps!)
If you have a room that is rather complicated, we suggest drawing a rough sketch of the room's layout. Then, you can measure each section of flooring and mark it down. This will help keep track of how large each space is.
Here are a few tips to measure rooms like this:
Split the room into separate areas.
Measure each area separately (it helps to label each area in your notes)
Calculate each area's square footage (LxW)
Add the calculations together to get a total square footage.
Formula: Area 1 SQFT + Area 2 SQFT + Area 3 SQFT = Total Square Footage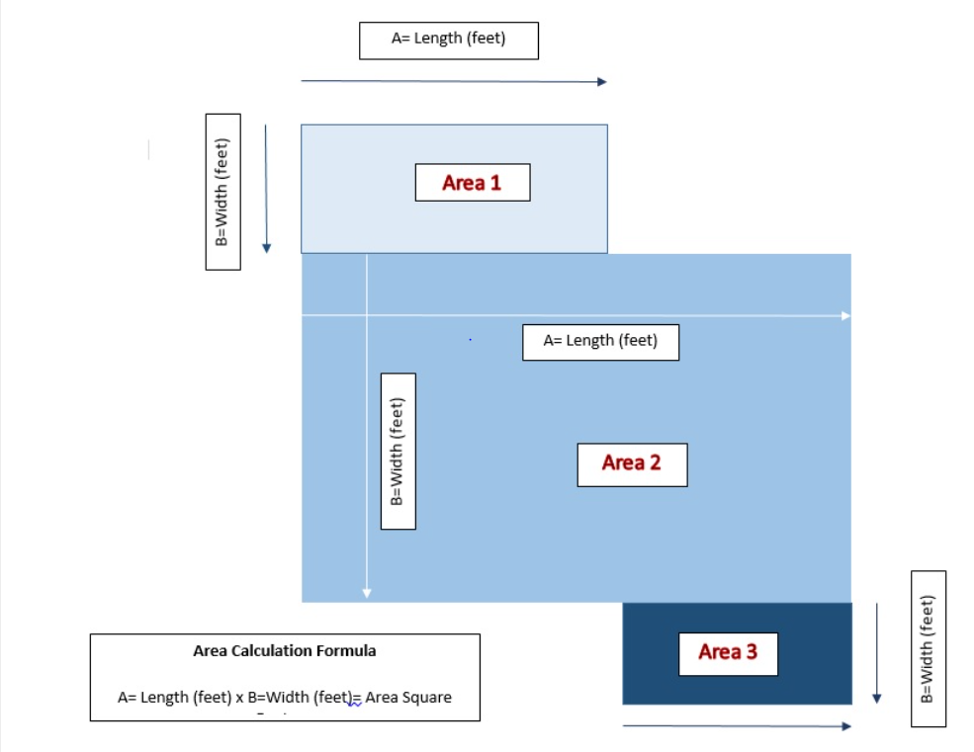 These are very basic ways to calculate square footage. When ordering, we recommend adding 7-10 percent to account for waste (cutting, angles, etc.) so you do not have to buy extra down the road.
There are many variables to consider when purchasing flooring and our team is on hand to help walk you through it!
We are here to help!
If you would like to have one of our measurers help you through this process, we can accommodate! Give us a call and ask to speak to a measurer at 920-494-3461.
We will need as much information as possible from you, including:
Precise measurements of all parts of the room
Note the type of flooring that adjoins the room at the doorway
Photos of the space, as detailed as possible, to show the space, doors, corners and more.
Determine the subfloor if possible. For carpeted rooms, try and lift a corner of the carpet and padding, so we can clearly see the existing subfloor.
If you have questions, please call 920-494-3461 and ask for someone in the Measuring Department. If you're still looking for the perfect flooring for your home, visit our online gallery to be inspired! If you want to learn more about H.J. Martin and Son, visit our services page!