Hornung proud of new downtown G.B. statue — "one of the great honors ever bestowed on me"

Posted on September 13, 2013 by H.J. Martin and Son
Mention Paul Hornung's name, and, guaranteed, it's more than a star running back for the Green Bay Packers that flashes inside your head. It's more than a multi-dimensional football player who helped transform the Packers into the NFL's most dominant team of the 1960s, too.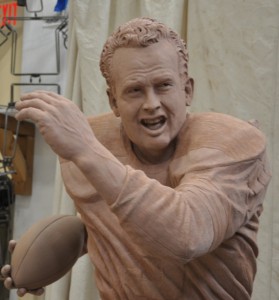 It's more like a picture, and the picture looks something like this: Number 5 in a green, gold and white jersey, running to his right behind guards Jerry Kramer and Fuzzy Thurston, with Hornung cradling the football in his right arm, his left arm pumping, his eyes looking for the first hint of daylight and his body waiting to spring forward.
If you had the privilege of watching Hornung and Vince Lombardi's Packers of the 1960s, it's an image you not only cherish but can't forget. Hornung and the Power Sweep were to the rise of Green Bay and the Packers what the auto industry was to Detroit. One was good for the other, and together they were difficult to overcome.
But that was five decades ago, which means there are hundreds of thousands of Packers fans — millions, maybe — who can't or don't remember.
No problem. The Packers Heritage Trail Foundation, Inc., is here to offer a refresher course, guaranteed to make certain that no one now … or ever … forgets what Hornung looked like as he navigated the right side of the Packers' offensive line.
The foundation this Saturday dedicates the Packers Heritage Trail Plaza in downtown Green Bay, a site that includes a Recognition Wall and three bronze sculptures, one of which is Paul Hornung as he should be remembered: Carrying the football — and the Packers — with him as he runs to his right.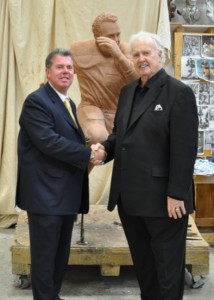 The statue is sponsored by Hornung's long-time friend, Edward Martin, president of H.J. Martin and Son, Inc., and is perfect in its detail — right down to the sewn numerals on Hornung's jersey.
"It's pretty nice, isn't it?" said Hornung, who saw the life-sized clay figure before it went to bronze. "I'm very happy about it. I'm very proud of it, and I'm very proud of having a statue downtown."
He should be. Downtown Green Bay is where the Packers began, and it's where Hornung lived with former wide receiver Max McGee when the two were teammates on Lombardi's championship teams. Now it's the site of a commemoration that is as appropriate as it is overdue.
The Packers and Green Bay are linked more closely than any NFL city or community, with the Packers publicly owned and its streets named after former coaches and players. Green Bay and the Packers have deep connections, with local children showing up in droves during summer training camp to offer players bicycle rides to and from practice. It's a ritual that's been going on for years, and it's a ritual that happens only in one place.
"The Packers," said Martin, "mean everything to this community."
That's why the idea of the Packers Heritage Trail and a plaza funded by donations makes so much sense. The Packers belong to the people, and the people belong to an area that not only embraces its football team but never wants to let go.
So the Packers Heritage Trail Foundation, Inc. — the brainchild of Green Bay native and long-time Packers reporter Cliff Christl, along with his wife Shirley — suggested the idea of a downtown plaza to celebrate the team's history and to make certain that Packers greats like Hornung and former running back Johnny Blood are never forgotten.
The response was overwhelming, and the result is there for all to see at the northeast corner of Washington and Cherry Streets, beginning this weekend.
"I don't know if I should say this, because I haven't seen the finished product," said Christl, "but I think it's going to be one of the most fantastic sports plazas in the country."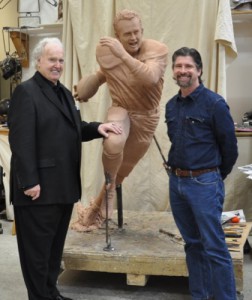 So does sculptor Lou Cella, who did the Hornung sculpture. Cella is part of the Fine Art Studio of Rotblatt-Amrany that is responsible for all three statues unveiled Saturday — Hornung, Blood and franchise co-founder George Whitney Calhoun — and that completed the Vince Lombardi and Curly Lambeau larger-than-life sculptures on display in front of Lambeau Field since 2003.
Cella is a lifelong football fan, and Hornung is the first football figure he completed in its entirety. Like Hornung, he is happy with it. More than that, he is pleased with where and how it will be viewed.
"You couldn't put this in another town," Cella said. "I can't think of one. It goes even beyond college stuff in a lot of ways. There's just something so … I don't know … so family-like about it. It goes back forever.
"Baseball teams seem to tie more into the fabric of that sort of that thing, and that's what makes this Green Bay experience more realistic and more personal. I mean, when people look at baseball statues around parks they tend to tell stories to their kids about when they used to go to games.
"There might be three generations standing there looking at something, and it's, 'Granddad and I watched Ernie Banks, and you see how his fingers are open (as he grips a bat)? Well, that's because they were actually moving.' And the kid is standing there listening and actually looking at the fingers, and I get a lot of that in Green Bay — just how the Packers are intertwined in the community.
"The point is: There's just that whole culture of the Packers and the community, and it's really neat."
That's one way of describing it. Special is another, and that's how Martin, who has been a close friend of Hornung's for years, puts it. As a child growing up in Green Bay, he watched Lombardi's teams take over the NFL. He watched Hornung and Jim Taylor and Bart Starr and Herb Adderley and Willie Davis do what others before them could not. And he was there to witness the impact they and the Packers had on him, his friends and a town that was about to experience something … well, extraordinary.
"This is a special place," said Martin. "This is unduplicated anywhere in the world. So when (Packers Heritage Trail treasurer) Scott King and Cliff Christl came to me with the idea (of sponsoring the statue), I didn't blink because it's so perfect to have the Packers recognized that way.
"It's good for the community, and it's good for downtown. The mayor has done such a fabulous job with downtown. This is something that's another positive to what he's doing there."
Martin will be there Saturday for the unveiling. So will Green Bay mayor Jim Schmitt. And Packers' president Mark Murphy. And Cella. And Christl. And, of course, the running back that Green Bay can't forget.
"When you think they're going to put up a statue of you," said Hornung, "you think, 'Are they crazy?' I've always thought that statues and pictures of players that are exposed to the public after those players retire are tremendous honors.
"So this just shows how thankful those fans are. They remembered people who have been successful for the Packers for so many years.  This is a culmination of all the things you've done, and it's a very nice thank-you … and that's the way you have to look at it. I appreciate all those things, and I'll be honest with you: This is one of the great honors ever bestowed on me."
To watch sculptor Lou Cella explain the technical aspects of the Paul Hornung statue, click here.
Tags: Cliff Christl, Downtown Green Bay, Edward Martin, Fine Art Studio of Rotblatt-Amrany, Green Bay Packers, H.J. Martin and Son, Jim Schmitt, Lou Cella, Mark Murphy, Packers Heritage Trail, Paul Hornung, VInce Lombardi